Can't say how excited we are for this one! Such a solid lineup for you Montreal heads.
Triple lineup featuring California's B.LEWIS, Detroit's SHIGETO and Boston's SONNYMOON. And if that wasn't good enough we got Artbeat Montreal founder SEVDEE and KAYTRADAMUS, rising star of the Montreal Beats scene.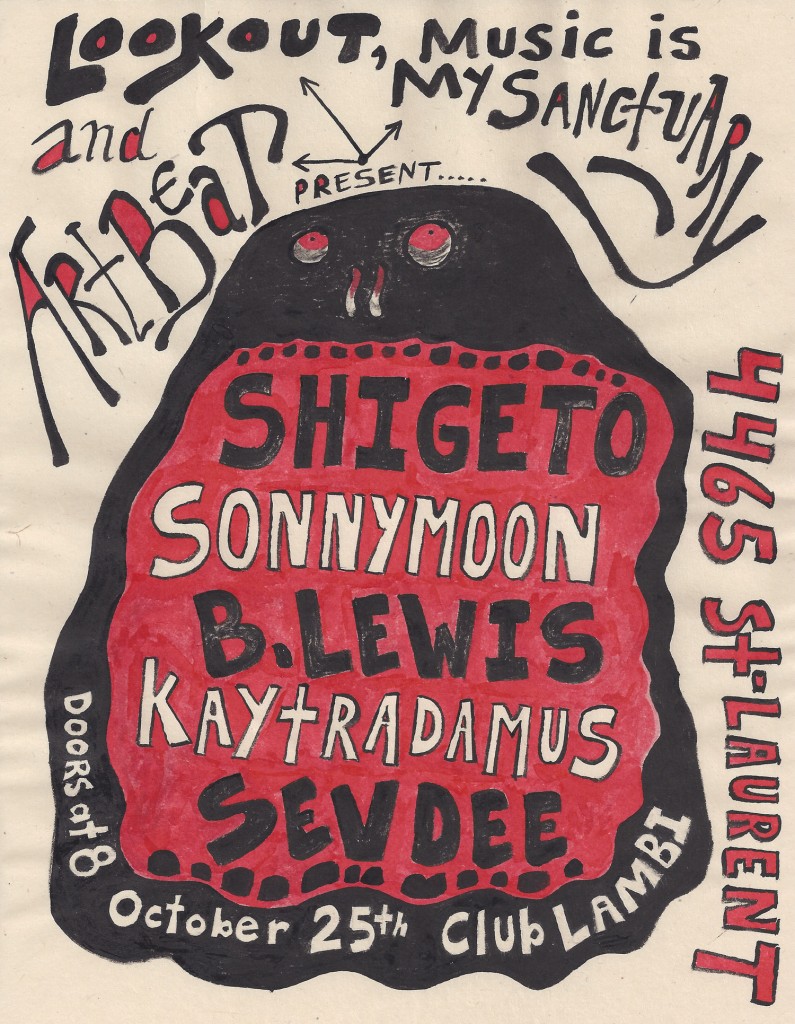 B LEWIS (http://www.b-lewis.net/)
B.Lewis hailing from the beautiful city of San Jose CA, is more that just what meets the eye.  After graduating from Ex'pression college in Emeryville, he moved back to San Jose to refine his craft further.  From soothing textures to heavy bass tones, B.Lewis tends to go all the way around the musical spectrum with his sounds. With his most recent release "A Lion's Aperture" you can hear how his sound has progressed from simple, to more refined.  Theres no end to where he might go next with his sound.
SONNYMOON (http://www.plugresearch.com/sonnymoon/)
Sonnymoon is part of the fertile ground by which the new and innovative springs forth. They are an army of the audible, a musical militia manned by two. There is no time to prepare sufficiently for their coming– they have already arrived and the mass-scale invasion is imminent. For those receptive to their transmission – prepare for your world to change.
SHIGETO (http://ghostly.com/artists/shigeto)
Michigan native, Zachary Saginaw (aka Shigeto) is just reaching his prime. The accomplished drummer/producer is currently signed to Ghostly International, the seminal electronic record label whose catalog includes names like Dabrye, School Of Seven Bells, and Matthew Dear. Shigeto's core of jazz and hip-hop compliments his label peers while his twists of bass driven ambiance, and beats help single him out as one of our most unique and important producers that you need to know.
Thursday October 25th 2012
Club Lambi
4465 St-Laurent, Montreal, Quebec