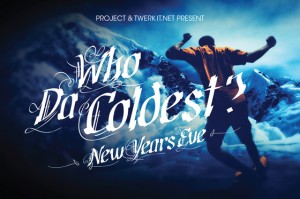 Hey guys! This is your friendly neighborhood DJs from Project Sunday! Did you know that we're throwing a Footwork rave on New Year's Eve? It's true! You might have seen us flyering Blizzarts and Bluedog or posting about it on Facebook! In case you haven't heard about it and are still considering your options for December 31st, we're stoked to let you know that we'll be bringing the best in Grime, Bass music and Juke/Footwork at Who da Coldest NYE! What's Footwork you say? Why, we're glad you asked! Footwork (or Juke, let's not get into that…) is a style of high-speed Ghetto-House straight out of Chicago. It's 160BPM, features lots of skippy drums and sounds like Aliens trying to make Jungle out of House Music and Hip-Hop but getting it all wrong. We're sure all of you wonderful Music is My Sanctuary readers will love it (if you don't already!) and we decided it'd be in the Holiday spirit to list our five favorite tunes of the year! Enjoy and see you on New Year's Eve!
Check out the promo video
Who Da Coldest NYE Event Info 
1. DJ Rashad & Gant Man – Heaven Sent
A lot of Footwork can seem noisy and anti-musical at first glance since the genre is based on unorthodox rhythms and very short musical phrases but 2011 saw the style expand into more melodic song structures both abroad and in Chicago. This Bangs & Works 2 stand out from Juke Godfather DJ Rashad and scene leader Gant Man combined a G-Funk inspired bassline to straight up ghetto house drumming before exploding into triplet drum patterns that have come to define Footwork in the EDM world. It's everything that makes Footwork special: the jacking energy of house, the rumbling 808s of Trap music, the sinewy grooves of funk and the weirdness you get from a community of like-minded musicians creating something special for a local community that doesn't give an F about the outside world. Plus, it's pretty damn sexy: if you need to convince your girl that Juke is the shit, this is the track to do it with.
2. DJ Earl – Had My Way
The influence of Chicago Hip-Hop producers and emcees can be found all over Footwork's DNA. While national House and Hip-Hop alliances haven't always worked out for the best, with neither scene trusting the other, the Chicago underground has proven to have no such qualms mixing dance and rap. Here, No I.D's sample science gets updated for the 21st century with classic records getting chopped, flipped, screwed and reverse engineered into stuttering compositions that re-imagine the city's soul and blues traditions for a rough new era. Meanwhile, shades of classic ghetto house and Twista's rapid-fire Midwestern music shine through the hi-speed rhythms and 808s. Play this one for your true-school Hip-Hop homies and watch 'em freak out!
3. Rashad – Welcome 2 da Chi
One of the great things about Footwork these days is how it re-imagines new school rap music as pure dance floor heat without getting bogged down by Hip-Hop traditions. Whereas NY crate-diggers were once the unchallenged masters of the sampler, Chicago producers are re-inventing the game by using rap itself as source material. Here, Rashad chops up Jay & Kanye's 2011 anthem "Niggas in Paris" as a battle track before hitting you with MASSIVE London influenced sub-low frequencies, keeping all the roughneck energy that makes Trap rap so dope but with bass music precision. OK, we're cheating here since you couldn't (officially) get your hands on this track in 2011 but c'mon: this Juke-version is so much better than the overproduced original.
4. DJ Spinn – LOL
A good Footwork set is all about shifting patterns and going from straight up high-speed bootyhouse to half-time experiments to tracks built entirely on triplets. Somehow DJ Spinn's LOL manages this all in one track. Built on another jazzy soul loop obliterated into atoms, it's a surprisingly musical moment that have had a few people bandying about words like "deep" and "intelligent" like this was the 90s. While it's important to show the world that Juke/Footwork is a versatile musical movement rather than a single-idea fad, we're not fans of this sort of division. Good music is good music: no need for subgenres on this one, particularly given how much it bangs on a booming system.
5. Leatherface – I Wish
2010 was the year Footwork broke outside of Chicago but 2011 was the year it truly went international. Producers from all over the world started not only creating Juke but also adapting it to their own needs. While a metric ton of UK beatmakers went on to fuse Footwork's drum patterns to a Bass music foundation, the genre also found fans out in France where producers such as Leatherface and his Nightmare Juke Squad delivered authentic Footwork bangers…with a twist. On I Wish, we see several of the genre's competing elements pushed to extremes with ultra-precise choppage meeting a Hip-Hop ready sample source. A whole lot of people are focusing on London's eclectic music scene right now but Paris's rich Hip-Hop tradition both in music and dance has made it the ideal location for Juke to begin it's international takeover and with tracks like this – Chicago better watch out!
RELATED POSTS: