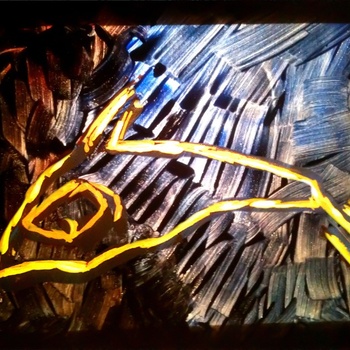 Alaclair Ensemble "Musique Bas-Canadienne D'Aujourd'hui" 3LP
A year and a half ago, my friend Kenlo handed me a CD called 4,99$ from Alaclair Ensemble. Little did I know that it would be the record that would pretty much renew my faith and interest in what Quebec has to contribute to hip-hop music. It was one of the first records from here that didn't either imitate US or French Hip-Hop. Something that we can say could only have come from here. Now make no mistake, it's not because they don't take themselves too seriously that these guys aren't fucking musical geniuses. Alaclair aren't a comedy act (although they do make pretty weird shit sometimes). The closest comparaison to A.E for me would be collectives like The Pharcyde, Sa-Ra Creaive Partners or even The Beastie Boys.
Since the release of 4,99$ in the summer of 2010, the movement has been growing steadily. The media has finally woken up and started giving them some much needed attention and the boys have been touring pretty much non stop. It also helps that all of the guys have been doing their solo projects as well. Kenlo is still pumping out the beat projects, Maybe Watson released his first solo record, E-Man and Ogden have been doing collaborations and up and coming producer VLooper has joined the crew.
In a really bold move, the boys have decided to put out a TRIPLE record project, for free. These guys are real artists who have decided to bypass the "typical" record industry model. They probably could have gotten signed to a label but decided to just put it out there and let the music spread like a virus. Although i've heard about 6-7 tracks from the 40 tracks just released, i'm not sure if it will live up to "4,99$" but I have nothing but respect for these guys.
Highly Recommended Downloads!