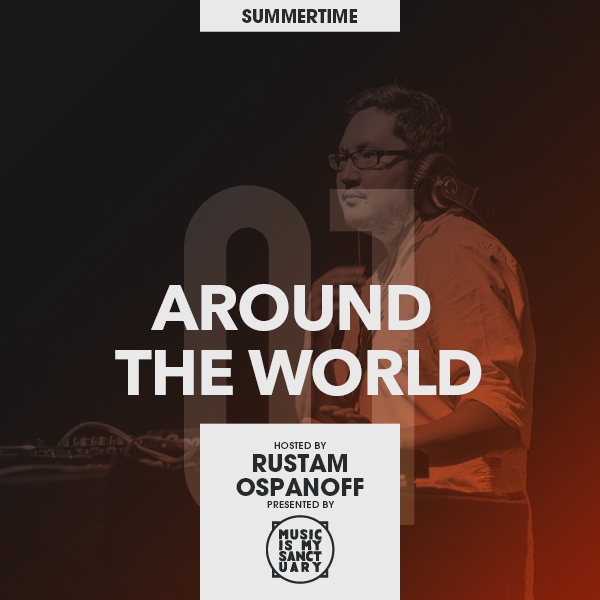 Around The World – Show #01 (Hosted by Rustam Ospanoff)
We are very happy to welcome our brother Rustam Ospanoff to the Music Is My Sanctuary family of exclusive radio shows (along with Lexis' MIMS Show, Walla P's Voyage Funktastique and Spacewalker's Balance).
Rustam Ospanoff is a DJ, music event producer & taste-maker. He is the creator of the great Jazzystan music festivals he created have transformed him from a musical statesman to a tastemaker on the Kazakhstan's performance scene.
This is a special compilation for Summer you can play any time any place. Here you will find some of his favorite records from different parts of the world: from Milton Nascimento, Ravi Shankar, Ruriko Ohgami & Ziad Rahbani to J Dilla, ODB, Moodymann
& Gaslamp Killer…
Rustam Ospanoff Mixcloud > https://www.mixcloud.com/ospanoff/
Download (Save As:)
TRACKLIST
1. Milton Nascimento – Reis E Rainhas Do Maracatu
2. Wando – Nega De Obluae
3. Helio Matheus – Eu Reu Me Condeno
4. Banda Black Rio – Maria Fumaca
5. Webster Lewis – El Bobo
6. Emilio Santiago – O Amigo De Nova York
7. Joe Loss – Tequila
8. Fruko – A La Memoria Del Muerto
9. Youngblood Brass Band – Human Nature
10. Basement Jaxx vs. Metropole Orkest – Samba Magic (Original Mix)
11. NOHA – Balkan Hot Step (Radio Edit)
12. Rabo de Saia – Ripa Na Xulipa
13. Off The Wall (Rare Malaysian Cover Version of Michael Jackson's classic)
14. Ya-Ya (No-No) (Rare Thai Version of "Lady Marmelade")
15. Edwin & Slimmy Taylor – War
16. Malcolm's Locks – Get Up Stand Up
17. Noor Jehan – I am Very Sorry
18. Palov and Panama Cardoon – Basmati Rice
19. 113 – Tonton du Bled
20. Ruriko Ohgami – Fuwari Fuwafuwa
21. Billy Butler – Play My Music
22. Ravi Shankar & George Harrison – Lust (Randra Chandrakauns)
23. Gaslamp Killer – Zalim
24. Selda – Yaz Gezeteci Yaz
25. Omar Khorshid – Ah Ya Zein
26. Ziad Rahbani – Abu Ali
27. Aris San – Boumpam
28. Dr. Dre – Another 'G' Thang (feat. Leon Haywood)
29. J Dilla feat. Snoop Dogg – Gangsta Boogie
30. Amanda Diva – Get Money (Junior MAFIA Cover)
31. Ol' Dirty Bastard vs Young-Holt Unlimited – Holtful Shimmy (Tom Showtime
Mashup)
32. Moodymann – Untitled
33. Paddy Roberts – The Big Dee Jay