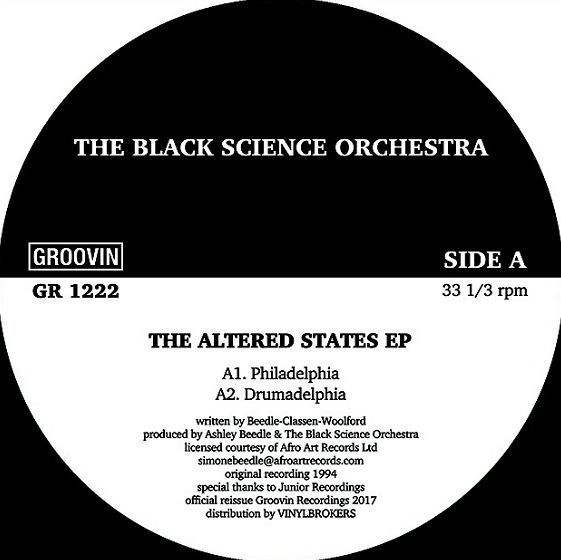 The Black Science Orchestra "The Altered States EP" (1994, Groovin Recordings)
via Juno: It was way back in 1994 when the Black Science Orchestra – AKA Ashley Beedle, Uschi Classen and Marc Woolford – first released the Altered States EP.
As this timely reissue on Groovin' proves, it remains a benchmark of British Deep House.
The EP is arguably most famous for the Wood, Brass & Steel-sampling brilliance of "New Jersey Deep" – a track that should reside in any house-head's collection – though the similarly-minded laidback positivity of "Philadelphia" (whose swinging drums, toasty electric piano chords and rising synthesized horns pay hearty tribute to Philly Soul) pushes it close. The EP also includes a tasty "Drumadelphia" version of the latter track for DJs who like to play around with percussion, while "Vario (SOS)" is an organ-rich trip into hazy lounge music territory.
"The Altered States EP" reissued October 3, 2017 on Groovin Recordings