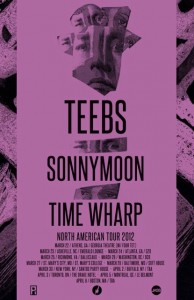 After a busy 2011, forward-thinking electronic artists Teebs, Sonnymoon, and Time Wharp have announced a run of North American dates to kick off what looks to be an even busier 2012. Fresh off the releases of Teebs' recent Brainfeeder LP Collections 01, Sonnymoon's Plug Research EP 2012, and Time Wharp's Astro Nautico EP BLK, the artists will begin the tour in Athens, GA with a support date for internationally-acclaimed producer Four Tet before continuing on up the East Coast with two stops in Canada. Sonnymoon also tour in anticipation of their forthcoming eponymous Plug Research LP, due to be released in May.
Tour Dates:
March 22 – Athens, GA – Georgia Theatre (with Four Tet)
March 23 – Asheville, NC – Emerald Lounge
March 24 – Atlanta, GA – 529
March 25 – Richmond, VA – Balliceaux
March 26 – Washington, D.C. – DC9
March 27 – St. Mary's City, MD – St. Mary's College
March 28 – Baltimore, MD – Soft House
March 30 – New York, NY – Santos Party House
April 2 – Buffalo, NY – TBA
April 3 – Toronto, ON – The Drake Hotel
April 5 – Montreal, QC – Le Belmont
April – Boston, MA – TBA
(More Dates TBA)
Promo Mix
Sonnymoon – Morning Person from Plug Research on Vimeo.
RELATED POSTS: