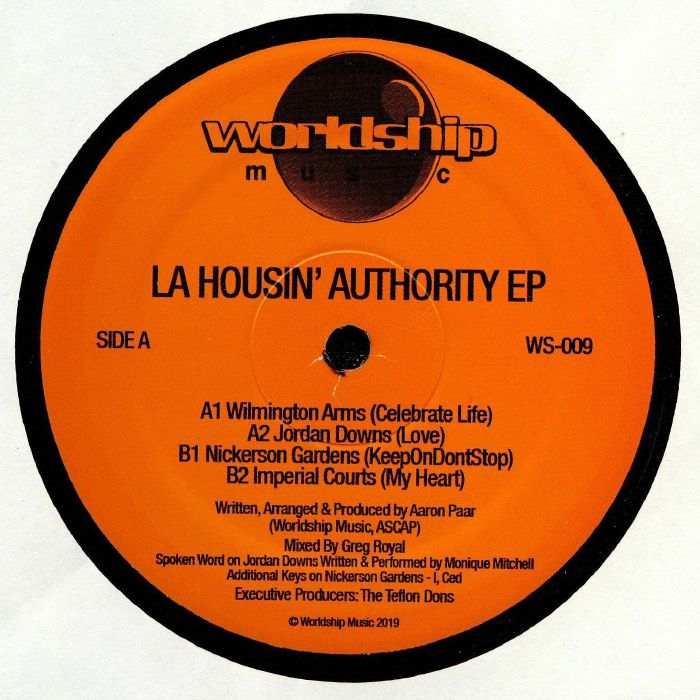 Exclusive Premiere: LA Housin Authority EP "Imperial Courts (My Heart)"
Coming fresh off the limited 7" re-release of the unsung 1999 deep garage classic "Tomorrow People" which featured the first official recordings of Grammy nominated vocalist Gregory Porter, Teflon Dons return with the first new EP on their Worldship Music imprint in 18 years.
Notably, this is also the first solo-produced release from Aaron Paar under the Teflon Dons guise since the "Planet Eater" EP in 1995. After a variety of reissues on Jay Simon's Must Have Records and Jeremy Underground's M.L.I.U., renewed interest in their material led Aaron to put the finishing touches on these SP1200 produced tracks originally written from 1995-1997. With a title inspired by the Burrell Brothers' legendary NY Housin' Authority collaboration, each track represents an homage to a housing project in the greater Los Angeles area. As rugged, moody, no-nonsense deep house music from one of the genre's unsung veterans, the "LA Housin' Authority" EP is not only the start of a new chapter in the Worldship Music saga, but a fully realized return to form for the inimitable Teflon Dons sound.
The hunger continues…
Credits
Written & produced by Aaron Paar
Mixed down by Greg "Ski" Royal
Spoken word on "Jordan Downs" by poet Monique Mitchell
Additional keys on Nickerson Gardens by I, Ced.
Words by Jay Simon