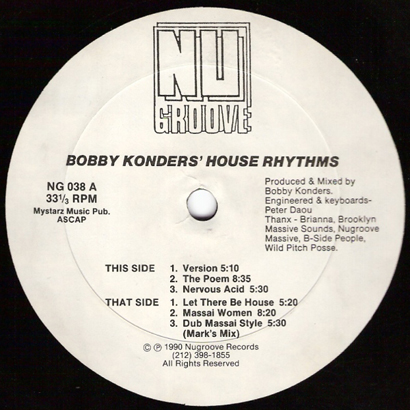 Forgotten Treasure: Bobby Konders "House Rhythms" (1990)
Few records can be said to enjoy the same cultic adoration that Bobby Konders' legendary "House Rhythms" does. Released in 1990 on the endlessly mythicized Nu Groove label, "House Rhythms" epitomized the early solidification of house culture just a few years after its emergence, an EP born from the central nerve of NYC's underground cell structure and immediately revered as one of the essential contributions of the city's diverse electronic scene.
via SlowToSpeak.net: Fitting that this offering would come from a Brooklyn native immersed since the mid-1980's in the borough's deeply ingrained reggae and dancehall culture, inheriting the eclecticism of a community 30 years deep and steeped in virtually every fashion of rhythm music imaginable. Konders was already a prophet of programming multiformity as a staple of NY's WBLS radio station, placing dancehall & roots directly adjacent to early house, classic disco, hip-hop and electro—a musical superhero operating at the heart of so many secret sonic societies while simultaneously watching over them all with the uncanny dexterity of a dance music demigod.
Version

The Poem

Nervous Acid

Let There Be House

Massai Women

Dub Massai Style
His 1990 magnum opus reflected his experiences in the NY underground, six brilliant essays that mastered the D.I.Y. production techniques of warm electronic soul and highlighted the entire palate of culture he had virtuously absorbed. Traveling the vast reaches of rhythm's past, present and future while retaining an atemporal distance, "House Rhythms" uttered the first broken words of man and reprogrammed the artificial intelligence of a brave new world in the same instance of genius. From the unrelenting organ-laden march of the Mutabaruka-sampling "The Poem" to the cinematic race through acidic depravity that is "Nervous Acid," Bobby Konders' Nu Groove classic, faithfully reissued in its entirety for the first time as part of slow to speak's 'CORE' series, remains a defining moment of synthetic soul that retained the visceral beckoning of its formational club past while breaking free to a new aesthetic that would be emulated for literally decades to come. One of deep house music's first and finest hours.