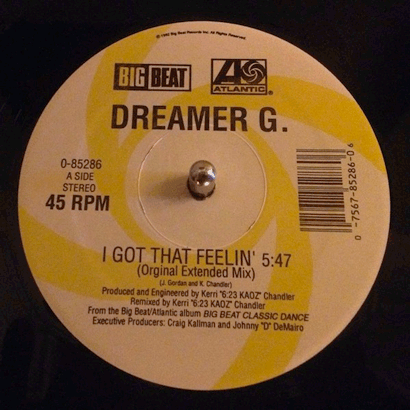 Forgotten Treasure: Dreamer G "I Got That Feeling" (1992)
Every now and then I get into one of these 90's Deep House moods which happens to be all the rage right now. Like anything else, the wrong kinda deep house music can be very boring and disposable; the line between great stuff and that loungy elevator house thing is sometimes very thing. But when you're listening to good shit (Kerri Chandler, M.A.W, Pal Joey, Pepe Bradock, MK, Mood II Swing and so on) it's quite amazing to see how well it has aged.
So while we're on the deep house subject why not go with some pretty obscure Kerri Chandler production from the early 90's on Madhouse records. The reason you might have missed it is because it's out under Dreamer G, the vocalists' name who only did a handful of tracks. I first heard the track on a Madhouse compilation called  "A Basement, A Red Light, And A Feeling" which actually is the only place you can find the vocal version of the track which isn't on the 12″. I finally got myself a copy in 2004 in a record store in Paris for about 30$ but i'm very happy to have it! Hands down it's in my top 10 favourite jams from the 90's.
Dreamer G - I Got That Feelin' (Vocal)