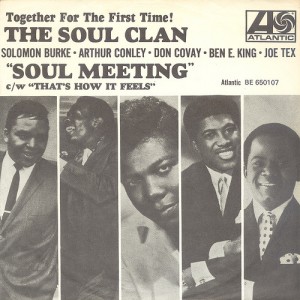 The Soul Clan were a short-lived but legendary supergroup comprised of some of the biggest names in '60s soul, their proper recording career amounted to a mere two songs, but the act's lineup was enough to make any R&B aficionado take notice: Solomon Burke, Arthur Conley, Don Covay, Ben E. King, and Joe Tex (all of whom recorded either for Atlantic Records or its affiliated labels)
The B-Side of the only 45′ released by the Soul Clan is "That's How It Feels" and is a great cut of deep soul. A style that Arthur Conley and Solomon Burke especially excel at.
You can find this track for 99c on Itunes but I think i'm gonna go buy myself the original 45 version. Just found it online for 3$! Big ups to Kathleen for sharing this gem with me.