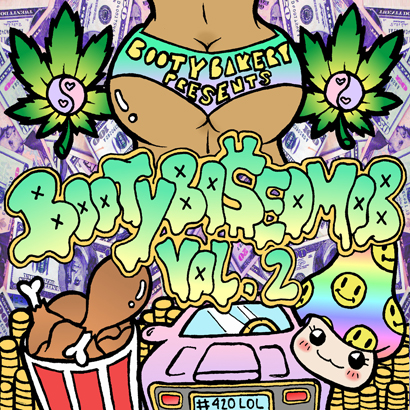 Future Classic: Booty Based Mob "Volume 2"
With their second installement, the Booty Based massive brings a boatload of based beats that resound through your sound system with the unmistakable thump they've made their name on. Showcasing some of MTL's brightest beatmakers, local GAWD KenLo Craqnuques is given the honor of opening/closing the ceremony with a molten, wobbly banger. Download, support the cohorts and just bump this album all summer in your ride because tracks like Jaw Jam's Broken House contribution will have you seeing double on the highway while Bosslab's Kush Toey will get you to another lane.
Following Stylo G's take on the classic Poirier riddim, Sikh Knowledge brings a humongous reggae sample-laced beat extravaganza, tempered by Elaquent's standout soulful headnodder and the pace is back up with KwikFiks' stupendous house vibes. Finally, Mincha takes us to the club with his sublime Compton Chic Remix. Big up to the Booty Bake crew for allowing all the local talent to shine and putting such solid tracks together. Anyone looking to capture a glimpse of Montreal's burgeoning beat scene will be well served to bump this all summer long!