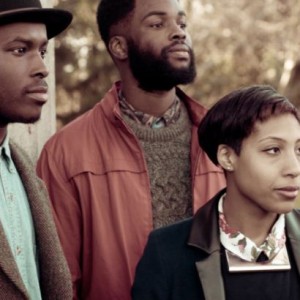 Wow, talk about love at first listen. If you're anything like us you'll be hooked as first as you hear the jazzy keys, crisp drums and first couple bars. We have to give props to our good friend Lefto for turning us on to this one on his last radio. (In fact, you should always check out his show – link)
Hawk House is a London trio consisting of MC's Sam & Eman and vocalist Demae. They've recently released a mixtape called A Little More Elbow Room which you can get for free (here). We haven't heard the whole record yet but we're definitely loving the "Tidal Tendencies" track… classic jazzy vibes reminiscent of Lone Catalysts meets the Digable Planets.
The production on the track is from Evil Needle (France) of the Soulection and HW&W fams. We're just wondering if the instrumental was borrowed or lifted depending on how you view this sort of thing. Because to be honest, the production on this is just as much of a homerun as the vocals are so props to Evil Needle no doubt.
We will definitely be keeping a look out for Hawk House! Truly, a breath of fresh air.
DOWNLOAD THE FREE MIXTAPE HERE : http://we.tl/pCW8qvVuMw
Directed by Paul Akinrinlola
Production Credit: Evil Needle
Mixed by Joe Meehan
RELATED POSTS: