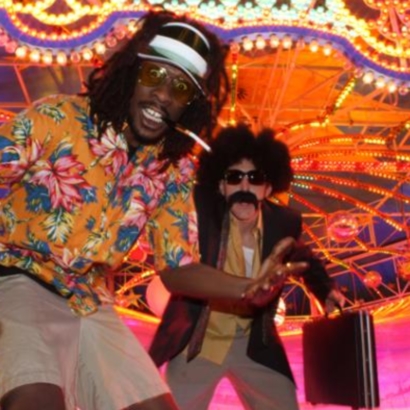 Future Classic: Kingdom of Fear (Jehst & Kashmere)
I've always been a sucker for "concept" records or those LP's that are so well put together that they just draw you in and you just feel like listening to the record from start to finish like you do with a really good movie or book. Cohesive and cinematic, two qualities all great concept records have. That and originality.
Yet, this is a quality that not that many hip-hop records have. There aren't that many notable rap concept records : Deltron 3030, Doom, "American Gangster" by Jay-Z, "De La Soul is dead", "Undun" by the Roots to name a few. And also earlier this year the Quakers record which is definitely up there for our records of 2012 list.
Kingdom Of Fear, is a new 'concept' album from British rap junkies Jehst and Kashmere (Produced by Jehst). Inspired by the subversive work of the late, great Hunter S Thompson, the creator of Gonzo journalism, best known for the drug-fuelled phenomenon Fear & Loathing in Las Vegas, the album is a truly one-off project fuelled by a dope on plastic ethic that will take listeners on an epic journey over the edge… and beyond!!!
"When the going gets weird, the weird turn pro." Hunter S. Thompson (R.I.P)
Buy Link