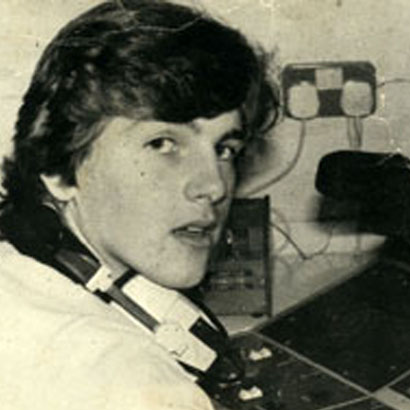 Greg Wilson "Floorfillers – December 1982"
Since we are at the end of the month, in December 2012 and at this time of the year everyone is going crazy for charts we thought we'd hit you up with one… for December 20 years ago! But as you'll ear, great music never dies and ages as well as fine wine.
Greg Wilson is a DJ and producer associated with both the early 80's electro scene in Manchester, and still in the current disco / re-edit scene. He was one of the earliest and most influencial DJ's from the UK and was actually the first to play on national television. (Clip from 1983 here)
Edition #12 of Early 80's Floorfillers takes a look back to December 82 as played at Wigan Pier, Legend (Manchester), The Exit (Manchester) & The Stars Bar (Huddersfield). Compiled from his record lists of the time
[toggle_box title="About Greg Wilson's 80's Floorfillers" width="Width of toggle box"]
A fascinating insight on how the fading Jazz-Funk scene gave way to the emerging Electro-Funk movement in the early 80's, 'Greg Wilson's Early 80's Floorfillers', marks the 30th anniversary of when these tracks first appeared. Compiled from his record lists of the time, and unfolding month by month, Greg Wilson counts down the Top 10 Floorfillers played at his venues during the key years of '82 and '83. Featured, most notably, on his Tuesday sessions at Wigan Pier and Wednesday gatherings at Legend in Manchester, the most cutting-edge weekly black music nights of the era, these were the clubs most associated with the evolving Electro-Funk sound.
The majority of music played on the black scene in the UK was initially only available on import, mainly out of New York during this period, with the club nights described as 'upfront', meaning that the DJ's were way ahead of the curve – what they played now, others played later, or not at all. Without these DJ's, many now classic dance tracks would never have become UK hits (many without enjoying similar crossover success in the US) – the reason they were released here in the first place was because these specialist DJ's were breaking them via the underground.
Things would change in a big way during those 2 years; we were entering the hybrid age for dance music, and the oncoming House and Techno and Hip Hop directions would all owe a huge debt to this era of dance alchemy and groove experimentation.
[/toggle_box]
1.(-) Dr Jeckyll & Mr Hyde 'The Challenge'
Written by Dr Jeckyll & Mr Hyde
Produced & Mixed by Eric Matthew
US Profile 12"
.
.
.
.

---
2.(- ) Grandmaster Flash & The Furious Five 'Scorpio'
Written by Furious Five
Produced by Sylvia Inc. & Jigsaw Productions
UK Sugar Hill Records
.
.
.
.
---
3.(-) Malcolm McLaren & The World's Famous Supreme Team 'Buffalo Gals'
Written by McLaren / Dudley / Horn
Produced by Trevor Horn
UK Charisma 12"
.
.
.
---
4.(-) Montana Sextet 'Heavy Vibes' (Club Mix)
Written by V. Montana Jr.
Produced by Vincent Montana Jr.
Mixed by Paul Simpson
US Philly Sound Works 12"
.
.
.
---
5.(10) Orbit 'The Beat Goes On' (Lunar Mix)
Written by Bono
Produced by Don Was, John Lewis & Jack Tann
Mixed by Don Was & Ken Collier
Canadian Quality 12"
.
.
.
---
6.(-) Indeep 'Last Night A DJ Saved My Life'
Written by Mike Cleveland
Produced by Mike Cleveland & Reggie Thompson
Mixed by Tony Humphries
US Sound Of New York 12"
.
.
.
---
7.(-) Toney Lee 'Reach Up' (Dub Mix)
Written by E. Matthew / T. Lee
Produced by Eric Matthew
Mixed by Nick Chiusano
US Radar 12"
.
.
.
---
8.(-) Wreckin' Crew 'Chance To Dance'
Written by M. Avery & W. Crosby
Produced by the Crew & J. Porter
US Erect 12"
.
.
.
.
---
9.(1) Whodini 'Magic's Wand (Special Extended Mix)
Written by Thomas Dolby / J. Hutchins / J. Rivas
Produced by Thomas Dolby
Mixed by Tee Scott
US Jive 12"
.
.
.
---
10.(-) Man Parrish 'Hip Hop Be-Bop (Don't Stop)'
Written by M. Parrish / J. Robie / R.A. Rodriguez
Produced by Raul A. Rodriguez & Man Parrish
US Importe / 12 12"
.
.
.
.
---
Other big tunes for Greg Wilson in December of 1982:
Prince Charles & The City Beat Band 'Jungle Stomp' 12" – Nairobi & The Awesome Foursome 'Funky Soul Makossa' 12" – Gwen McCrae 'Keep The Fire Burning' 12" – Stone 'Girl I Like The Way You Move' (Dub Mix) 12" – Melle Mel & Duke Bootee 'Message II (Survival ) 12" – Reggie Griffin & Technofunk 'Mirda Rock' (Instrumental) 12" – Aurra 'Such A Feeling' (Parts 2 & 3) 12" – Billy Griffin 'Hold Me Tighter In The Rain' 12" – Rod 'Just Keep On Walking' (Instrumental) – Michelle Wallace 'Jazzy Rhythm' 12" – Sandy Kerr 'Thug Rock' (Chimental Mix) – The Webboes 'Under The Wear' – Riuichi Sakamoto 'Riot In Lagos' 12" – Man Parrish 'Techno Trax' LP – I Level 'Give Me' (US Remix 12")