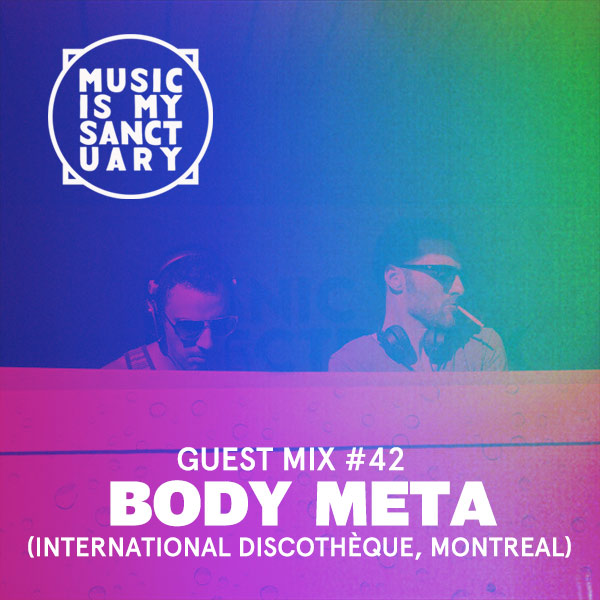 Guest Mix #42: BODY META (Montreal)
We're happy to present a new mix from BODY META, aka Nico Sé and Dimitri two great Montreal DJ's who decided to join forces a few months ago and have been for a year now.
via Body Meta: This mix clocks in at just over two hours and embodies what we consider to be our strong suit, which is touring the globe in search of those musical strands that connect different cultures and eras together. This particular mix picks up on a mid-tempo funk groove and rides it across 17 countries and 5 continents in 26 tracks.
01. Black Brothers – Saman Doye (Indonesia)
02. Erkut Taçkin – Sevmek Istiyorum (Turkey)
03. Super Djata Band – Zani Djabate (Mali)
04. Unknown – A Adorar A Antonio (Brazil)
05. Boutaiba Sghir – Dayha Oulabes (Algeria)
06. The Semi-Colon – Our Fada (Demo 1975) (Nigeria)
07. The Skatalites – Herb Man Dub (Jamaica)
08. Jimmy Hyacinthe – Yatchiminou (Ivory Coast)
09. Ebo Taylor – Peace On Earth (Ghana)
10. Orchestre Poly-Rhytmo de Cotonou – Akue We Non Houme (Benin)
11. The Stormmers – Love Or Money (Nigeria)
12. Merchant – Instant Funk (Trinidad)
13. Marcus Valle – Estrelar (Kizum Edit) (Brazil)
14. Q – Voice Of Q (Instrumental) (Great Britain)
15. Galaxy – Galaxy (
16. Prince – When Doves Cry (BM Slow Pitch Edit) (US)
17. Barbara Mason – Another Man (US)
18. Sumy – Funkin' In Your Mind (Surinam)
19. Twice – It's True You Do (Twice Edit)(Italy)
20. The Main Ingredient feat. Cuba Gooding – Catchin' Fever (Tim McAllister Edit) (US)
21. Jimmy Bo Horne – Spank (Disco Mix) (US)
22. Nguenang – Wouck (DJ Julien Lebrun Edit) (Ivory Coast)
23. La Pesada – Cumbia y Tambo (En La Lluvia) (Colombia)
24. Tropical Treats – Cumbia Colombiana Tropical Treats Edit) (Colombia)
25. Patato & Totico – Dilo Como Yo (Antibalas Remix) (Cuba)