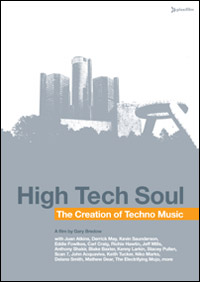 Directed by Gary Bredow (1996) Hi-Tech Soul: The Creation of Techno Music
HIGH TECH SOUL is the first documentary to tackle the deep roots of techno music alongside the cultural history of Detroit, its birthplace. From the race riots of 1967 to the underground party scene of the late 1980s, Detroit's economic downturn didn't stop the invention of a new kind of music that brought international attention to its producers and their hometown.
The film features: Juan Atkins, Derrick May, Kevin Saunderson, Eddie (Flashin) Fowlkes, Richie Hawtin, Jeff Mills, John Acquaviva, Carl Cox, Carl Craig, Blake Baxter, Stacey Pullen, Thomas Barnett, Matthew Dear, Anthony "Shake" Shakir, Keith Tucker, Delano Smith, Mike Archer, Derrick Thompson, Mike Clark, Alan Oldham, Laura Gavoor, Himawari, Scan 7, Kenny Larkin, Stacey "Hotwax" Hale, Claus Bachor, Electrifying Mojo, Niko Marks, Barbara Deyo, Dan Sordyl, Sam Valenti, Ron Murphy, George Baker, and Kwame Kilpatrick.
I stitched up all the parts from Youtube so you can watch it all in one spot!