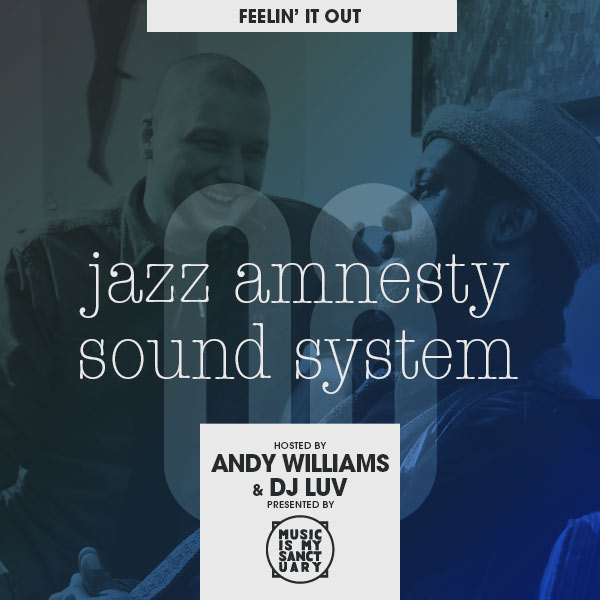 JAZZ AMNESTY SOUND SYSTEM – #08 (Feelin' It Out)
This mix was made six years ago, when Andy Williams and Sweet Daddy Luv first joined forces to help spread the gospel of Jazz.
This 2 hour tag team session helped convince them to give this Jazz Amnesty Sound System thing a go. Please enjoy this mix of Andy and Luv just Feelin' It Out!
TRACKLIST
Inga Brandenburg – Summertime – Niteroi Music (2002)
The Har-You Percussion Group – Santa Cruz – ESP / Luv N' Haight (1969/1993)
Freddie Hubbard and his Orchestra – Gibraltar – Pablo Records (1982)
David Newman – The Thirteenth Floor – Atlantic (1968)
The Hi-Fly Orchestra – Violet – Tramp Records (2007)
Oliver Nelson – Dumpy Mama – Flying Dutchman (1975)
George Benson & Jack McDuff – Shadow Dancers – Prestige (1977)
Oneness of JuJu – Chants – Black Fire Music (1975)
Horace Silver ft. Salome Bey – Acid, Pot or Pills – Blue Note (1972)
Nathan Davis – Tragic Magic – Tomorrow International, Inc. / Universal Sound (1976/2009)
Earl Moseley – Fly In The Soup – Luv N' Haight (2001)
Big John Patton – The Turnaround – Blue Note (1965)
Valorie Keys – Listen Here – Double Shot Records / Niteroi Music (1968/2003)
George Duke – Au-Right – MPS / Cripple Dick Hot Wax! (1973/1999)
Gabor Szabo – My Kind Of People – Four Leaf Records (1982)
Hugh Masekela – Inner Crisis – Impulse! / ABC (1978)
Vince Andrews – The One Who Needs You – Niteroi Music (2002)
Eddie Gale – Black Rhythm Happening – Blue Note / Soul Jazz (1969/2005)
Oscar Brown Jr. ft. Sivuca – What Is A Friend – RCA (1970)
Yusef Lateef – Sister Mamie – Impulse! (1964)
Zeljko Kerleta – Running Fast – Cosmic Sounds (1999)
Maulawi – Street Rap – Strata Records, Inc. / Universal Sound (1974/2005)
Stone Alliance – Sweetie Pie – Happy Bird / Ninja Tune (1976/2004)
Ron Carter – Uptown Conversation – Embryo (1970)
David Frost & Billy Taylor – Bright Star In The East – Bell Records (1970)
DOWNLOAD LINK
---
For those listening in Montreal, J.A.S.S. is hosting a night alongside Moonstarr Friday March 31, 2017