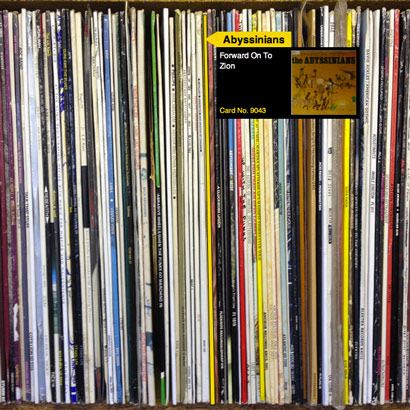 John Peel's Record Collection
As a diehard music lover and DJ / Radio host for quite some years I've always been secretly ashamed that I don't know as much about John Peel as I should.
Granted, he was a mainstay on BBC Radio from the 70's to the late 90's, long before my time or before I started discovering UK Radio. It's almost like I know that there is just so much I need to learn about his life and contribution to music that I've been waiting to have some time to start digging on the man that has influenced so many people who influenced me: Gilles Peterson, Mary Anne Hobbs and so on.
Well… all this to say that there is no better time than now to get started. An absolutely amazing new website has undertaken the daunting task of digitalizing all of John Peel's amazing record collection. So far, only the A's of his collection has been scanned and cataloged (B-Z are coming), there are links to his Peel Sessions and podcasts, and there are some never-before-seen home videos to watch.
Link to the Project
---
John Peel's Record Box Documentary
Bio
John Robert Parker Ravenscroft, OBE (30 August 1939 – 25 October 2004), known professionally as John Peel, was an English disc jockey, radio presenter, record producer and journalist. He was the longest-serving of the original BBC Radio 1 DJs, broadcasting regularly from 1967 until his death in 2004. He was known for his eclectic taste in music and his honest and warm broadcasting style.
He was one of the first broadcasters to play psychedelic rock and progressive rock records on British radio, and he is widely acknowledged for promoting artists working in various genres, including pop, reggae, indie rock, alternative rock, punk, hardcore punk, breakcore, grindcore, death metal, British hip hop, and dance music.
Peel's Radio 1 shows were notable for the regular 'Peel sessions', which usually consisted of four songs recorded by an artist live in the BBC's studios, and which often provided the first major national coverage to bands that later would achieve great fame. (These 'sessions' are similar to 'Live Lounge' sessions recorded today for the station.) Another popular feature of his shows was the annual Festive Fifty countdown of his listeners' favourite records of the year.
Peel appeared frequently on British television as one of the presenters of Top of the Pops in the 1980s, and he provided voice-over commentary for a number of BBC programmes. He became popular with the audience of BBC Radio 4 for his Home Truths programme, which ran from the 1990s, featuring unusual stories from listeners' domestic lives.