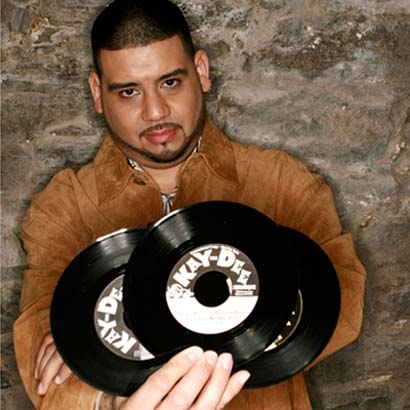 Kenny Dope's Five Favorite (Priceless) 45's
Just to get us in the vinyl mood in time for the 4th edition of our 24 Hours of Vinyl event (this friday). Here is a 7″ rundown from one of our favorite producer / DJ's mister Kenny "Dope" Gonzalez from KayDee Records and part of the legendary Masters At Work.
5. Sly & The Family Stone, "Underdog" (Epic)
This is a different version [to the one] that's on his album; the drums are mixed very loud. It's definitely a different pressing. I thought it was promo only until recently when I found out that there is some stock copies of it. You'll see Sly Stone stuff all over the place, but this record for some reason I thought was promo only but it was released—although I only have the white promos of it. It's an all around great club record.
---
4. House Guests, "My Mind Set Me Free" (House Guest Records) 
This is actually Bootsy Collins. It's just a real deep-funk, uptempo record. It's out of Ohio, after the whole JBs and James Brown thing. I love to DJ this record and still play it today—I'll probably play it out tonight. I picked this up on one of my buying trips into Pennsylvania.
---
3. Bob James, "Take Me To The Mardi Gras" (CTI)
Initially this was found on a CTI little EP, which was the main one we knew about, until a friend of mine about five years ago told me there was an Italian pressing of the record with a picture jacket. It's also the whole song—the American pressing is only about a minute, but this Italian pressing has the whole song and it's stereo, so it meant the bells are on the left side and the drums are on the right side, or vice versa. It's pretty obscure. You don't see it, but if you do, it's a couple of hundred dollars.
---
2. Manzel, "Midnight Theme" (Fraternity)
It's on a label out of Ohio. It's a classic breakbeat record [as sampled by Cypress Hill, De La Soul and Eric B & Rakim]. I actually ended up licensing it for one of my reissue projects and got to meet Manzel and he handed me a copy of the record. It's up there in about the $700 range, but just being personalized by the man himself and it being a classic breakbeat that people have sampled and cut it up, that makes it my second favorite 45 in my collection.
http://www.youtube.com/watch?v=zxwPNW0uV2E
---
1. Salt, "Hung Up" (Choctaw)
These days, this one comes in at about three thousand dollars. I had pulled this record out in my travels from a private dealer in the late '90s, just to find out later it was a very sought out record. At the time it cost me about $400. I would say that's got to be one of the rarest singles in my collection. I was first attracted to the label and the way it looked, basically. Then when I played the record it was just this open drum break and really ugly horns. It's a crazy track to me; it's essentially a hip-hop record.