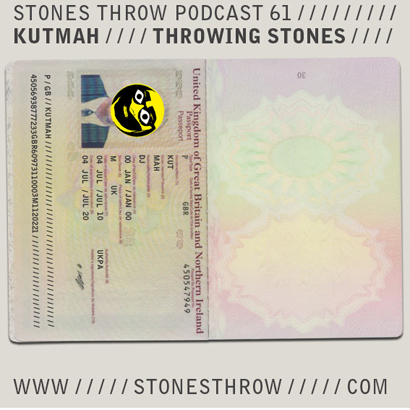 Kutmah "Throwing Stones" (Stones Throw Podcast)
Considering the fact that we have mad love for everything Kutmah does, we don't share nearly enough of his stuff here. He's a really interesting artist originally from the UK, who moved to LA when he was 12. He then became an important member of the Dublab radio collective, and a key player in the LA Beats scene.
We'll be sharing a lot more from him in the near future, but for now why don't you start out with this amazing mix from a couple months ago. Beats heads you will not be disappointed!
Tracklist:
1. KUTMAH – EAST L.A ONE FOR GONJASUFI (UNRELEASED)
2. ROYCE THE 5"9 + BUSTA RHYMES – DINNER TIME
3. FUGEES – REMIX BY JON WAYNE (UNRELEASED)
4. CUPP CAVE – JUNIPER (UNRELEASED)
5. AADVARK – DUNK
6. LAPTI – THEREMIN JOINT (UNRELEASED)
7. SAM BAKER SHIT – WHERE AM I (UNRELEASED)
8. SAMIYAM FEAT. JON WAYNE – JWSB BOOTLEG (UNRELEASED)
9. MAINFRAME FEAT. BLU – THAT SHIT (UNRELEASED)
10. DIBIASE – SHEETS RUFF CUT (UNRELEASED)
11. ZACKEY FORCE FUNK – DRINK ON THE FLOOR (PROD: PIOTRUS PAN, UNRELEASED)
12. RAS G – KINGS RIDDIM (UNRELEASED)
13. MANSON GIRLS
14. PACE ONE – I'M THAT GOOD (UNRELEASED)
15. ALEX B FEAT. COUNT BASS D – DRIP SPLATTER ALPHA PUP
16. JON WAYNE – TAKING OVER EMPIRES' (PROD: DIBIA$E)
17. DEM HUNGA – JLLYBLLY (UNRELEASED)
18. RAS G – RAS/GLK (UNRELEASED)
19. FLYING LOTUS – SLOW IT DOWN (UNRELEASED)
20. MONO/PONY – GLOW (UNRELEASED)
22. JON WAYNE BEAT (UNRELEASED)
23. KANKICK – DIG THE TRADITION 99
24-30. MADLIB
31. DANNY DRIVE THRU – VERTUA RAP
32. MOBB DEEP – SHOOK VUNZ DUNNY