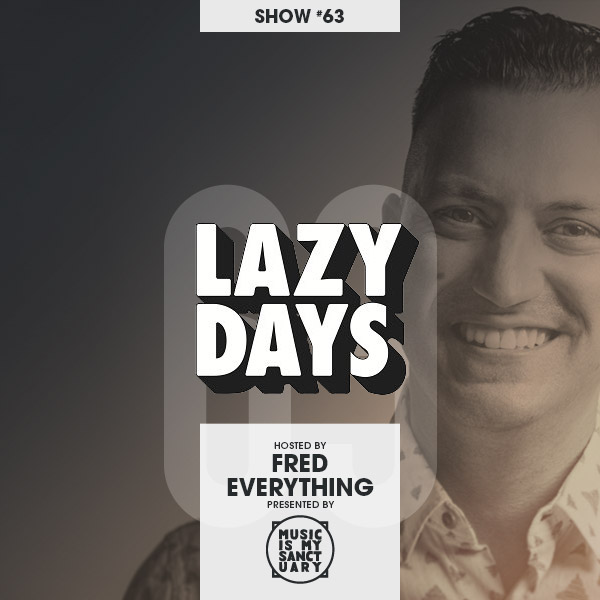 LAZY DAYS – Show #63 (Hosted by Fred Everything)
New Lazy Days Podcast for June 2017, featuring great new productions by Hot Toddy, Boris Dlugosch, The Revenge, Eye Cube aka I:Cube, Henrick Schwarz and many more.
These are just some of the tracks I'll be playing this summer. Upcoming shows include Montreal (Pik Nic Electronik), Toronto, Boston, San Francisco, San Diego, Berlin, Croatia, Oslo, NYC and more.
TRACKLIST
1.Henrik Schwarz – Confirm Humanity – Between Buttons
2.Rick Sanders & Larry Cadge – Niagara (Pezzner Remix) – Smiley Fingers
3.Adesse Versions Edits – Bumpin's NYC – Razor'n Tape
4.Joey Negro – Stomp Your Feet (Hot Toddy Underwater Dub) – Z
5.Nickodemus – In My House (Art Of Tones Deep Dub) – Wonderwheel
6.Boris Dlugosch – Traveller – Running Back
7.The Revenge – Every Night – Dirt Crew
8.Sirs – Drop It (Tiger & Woods Perdoname Mix) – Sirsounds
9.Andre Sebastien – Caribbean Feast – Take Away
10.Unit 2 – Sunshine (Kink Remix) – Running Back
11.Amadou & Mariam – Bofou Safou (Henrik Schwarz Remix) – Because Music
12.Eye Cube – Pistache – Versatile
DOWNLOAD LINK
Listen & Subscribe to LAZY DAYS as a podcast on iTunes