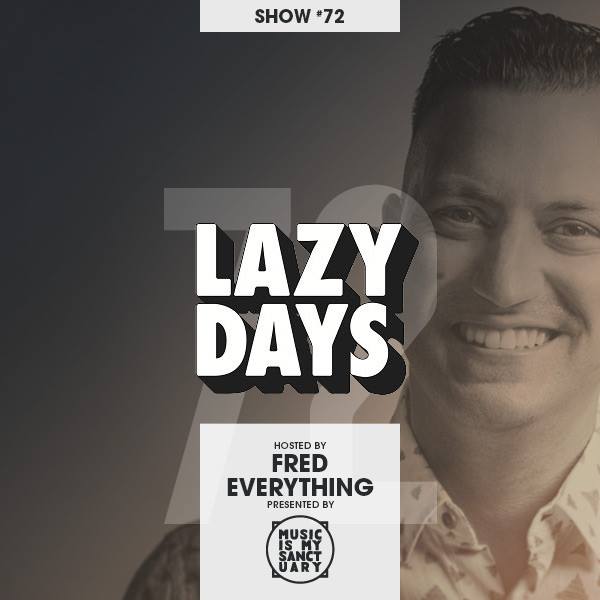 LAZY DAYS – Show #72 (Hosted by Fred Everything)
Back with another episode of the Lazy Days Podcast #72. Going through different styles while keeping it in the 4/4 format.
New music from Henry Wu, I:Cube, DOP remixed by Deetron, new Remix by Jimpster on the new Ransome Note label and a forthcoming Dub by Ian Pooley of my track Silverlight feat Jinadu, off my album Long Way Home. Hope you enjoy!
TRACKLIST
1.Fold – Aegean Sea (AUS)
2.Hotmood – Voyage to the Onda (DeLaGroove)
3.Henry Wu/Earl Jeffers – Projection (MCDE)
4.I:Cube – Les Flutes Souterraines (Versatile)
5.Bawrut – Too Much Cowbell (Jimpster Remix) (Ransome Note)
6.Pitto – Late Night Studio Moves (Heist)
7.Claudio Coccoluto – Suena Bien (The Dub)
8.Catz N Dogz feat Robert Owens – Feeling Fine (Dirty Bird)
9.Fred Everything feat. Jinadu – Silverlight (Ian Pooley Dub) (Lazy Days Recordings)
10.DOP – A Night In Sausalito (Detroon Remix) (Circus Company)
11.Detroit Swindle – Cut U Loose (Heist)
12.PBR Streetgang feat Ron Basejam – Montu (Paul Woolford Dub) (Skint)
DOWNLOAD LINK
Listen & Subscribe to LAZY DAYS on iTunes