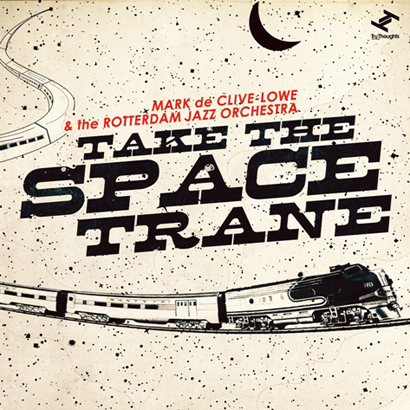 Future Classic: Mark de Clive-Lowe & the Rotterdam Jazz Orchestra "Take The Space Trane"
I'm really excited to share this one with the MIMS fam (and it's about time since I'm on my 9th listen already). Mark de Clive-Lowe hooks up with the Rotterdam Jazz Orchestra to incorporate powerful big band aesthetics to his consistently lush productions and as you may have guessed: the combination is deadly. In fact, I've already decided this album will be one of my personal favorites of the year.
Trumpet player Rob van de Wouw started this crucial collaboration after hearing MdCL at a mutual improv fest and invited him to be his guest performer. The excitement to experiment with a big band for modern compositions (many of which are dance-oriented) lead to a handful of recontextualized tracks from the MdCL catalogue (Relax…Unwind, El Dia Perfecto), a short cover of Duke Ellington's Caravan and two newly-inspired pieces (Blues For Six, Take The Space Trane).
Those familiar with his work can expect to hear a few vocal arrangements creatively transposed to the sax, trumpet and trombone while discerning DJs can appreciate the prominently crisp percussions and dance floor-friendly bpm range. The roaring orchestration found on most songs bring so much life in it's playfully complex horn sections, however this might seem slightly overwhelming when considered collectively. Heavenly provides a much-needed break from all of the hyper-stimulation with some smooth down-tempo jazz vibes, but this only happens on track seven-of-eight (my only small complaint on this absolutely stellar release).
Take The Space Trane is an album that packs some heavy cargo and will require many trips to digest and fully appreciate. If you're looking for some feel-good music to brighten up your day you can't go wrong here (unless you have a headache). Also, I wouldn't be surprised if you heard this in an upcoming Floating Points DJ set…
Out February 4th/5th
---
Here is a picture from MDCL from a show we did in December of 2011. If you get a chance to catch him live, don't miss it!