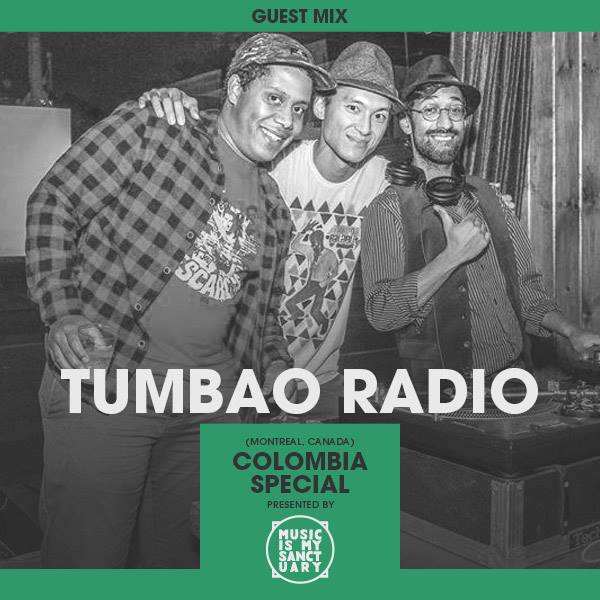 MIMS Guest Mix: Tumbao Radio (Colombia Special)
Tumbao is an Afro-Latin Soundsystem that will make the dancefloor hustle to the tropical sounds of vinyl records from African, Latin, Caribbean and Oriental shores.
In this inaugural episode for Radio Tumbao, the Montreal-based collective (formed of DJ Rhythm & Hues, Dr. Bahar and frequent MIMS contributor ASMA) cooks up a 75-minute tropical stew of lesser-known Colombian gems. This episode also features selections from guest DJ Dani R (Enklab). Expect salsa brava, monster cumbia and folkloric grooves, and afro-influenced rarities. Compiled / edited by Parker Mah.
TRACKLIST
Roberto de la Barrera – Los Cocacolos
Latin Brothers feat. Joe Arroyo – A Sol Caliente
Piper Pimienta – La Patrona de Cuba
Crecencio Camacho Y El Super Combo Curro – Santana En Salsa
Alfredo Linares y su Salsa Star – Desconfianza
Adolfo Echeverria – Sabroso Bacalao
Pedro Laza y sus Pelayeros – Navidad Negra
Puerto Rico Y Su Combo – La Cumbia Del Pescardor
El Turquito Y La Sonora Cordobesa – Pura Paja
Lucho Bermudez – Tolu
Lizandro Meza Y Su Conjunto – Candela Viva
La Tipica Colombia – Porro International
Juancho Sierra & Sus Gaiteros – Puya Puyara
Banda Los Hijos de la Niña Luz – Cumbia Cienaguera / El Sapo
Conjunto Miramar – Chela
Son Palenque – El Buscapies
Afrosound – Pa'Ti Mami
Mirian Makenwa – Amapondo
Wganda Kenya – Pim-Pom
Hernan Hernandez – El Premio Mayor (Remix)
Los Bestiales – Grito Cumbiambero
Fruko Y Sus Tesos – Achilipu
La Pesada – Cumbia Y Tambo (En La Lluvia)
DOWNLOAD LINK