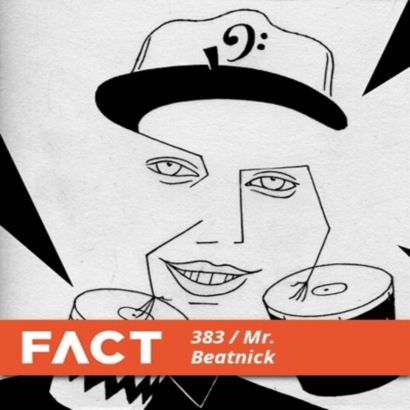 Mix of the Day: Mr. Beatnick "FACT Mix 383"
via FACTmag: "Mr. Beatnick always seemed, to us, destined to go down as one of those great underrated DJs – the sort of guy that half of London knows, and an even larger percentage of the city has danced to, but never quite got his due outside of the capital.
Thankfully, that seems to be changing. Although he's produced music for well over a decade – and released some well-received singles in that time: his Ahu-featuring 'I Know All The Bitches' was a highlight of Alexander Nut's Rinse CD, and his 'The Fourth Day' 7″ was simply a delight – Mr. Beatnick's stock has really risen in the last year, when a trilogy of 12″ EPs for the Don't Be Afraid label – Synthetes, Sun Goddess and Savannah – proved an unexpected success with the wider house community.
It's really overdue: we've sung Beatnick's praises before, and yes, he writes for us in his spare time (check his Essential guides to Theo Parrish, Giorgio Moroder and more) but he really is someone who deserves the hype he's started to get – a DJ with an encyclopaedic knowledge of his records, who simply loves playing them and talking about them. In a weird way, we guess that makes him a traditionalist, and his FACT mix is long, long overdue."
Mr Beatnick FACT Mix 383
Typesun – Last Home (Dj Nature Remix) [FutureBoogie records]
UMOD – Unreleased beat
Kelpe – Answered [Drut Recordings]
Mr Beatnick – Symbiosis [Don't Be Afraid]
About Group – You're No Good (Theo Parrish Remix feat. Andrew Ashong) [Domino]
Pepe Bradock – Lifting weights [Acid Test / Absurd Recordings]
James Blonde & Oliver Deutschmann – Milanese (Quarion's Sicilia Profonda Remix) [Sweatlodge Records]
Levon Vincent – ??? [Novel Sound]
Walt J – Nite Gruv [FIT records]
Tinman – Tip The Acid [Keys Of Life]
John Heckle – Life On Titan [Mathematics Recordings]
Marcelus – Enlightenment [Singular Records]
The Reflektor (aka Gifted & Blessed) – Chicken Itza [Wild Oats]
JTC – Gallup [Hoya:Hoya]
Actress – Holy Water [Honest Jons]
Barker & Baumecker – Nobody (Machinedrum Remix) [Ostgut Ton]
Kingdom – Stalker Ha [Nightslugs]
Mr Beatnick – Parallax Scroll [Don't Be Afraid]
Samoyed – Sloe Eyes [Vase]