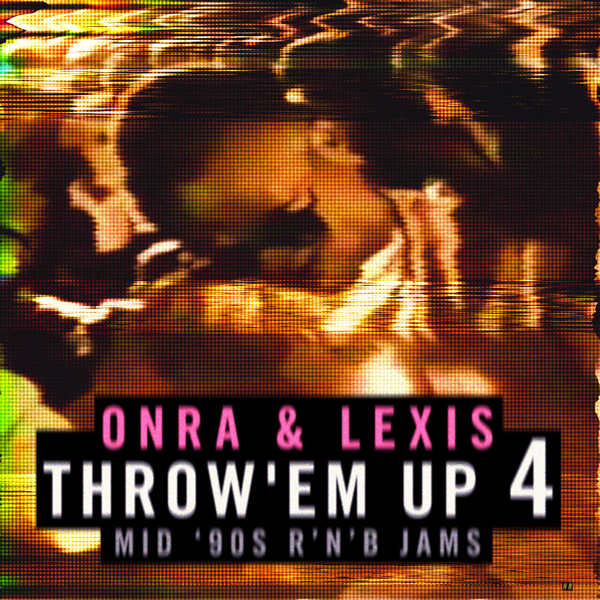 Onra & Lexis "Throw 'Em Up 4"
"When we put out the first volume of our Throw 'Em Up mixes over 3 years ago we never thought the era and sound we wanted to cover would go that deep. We thought our knowledge was pretty advanced but have come to realize that there are so many hidden gems. It's become a part-time obsession to collect vinyl-only rare remixes, CD-only versions and so on.
If you are new to the mixes (we suggest you check out the three previous editions at www.throwemup.com): the era we cover here is almost exclusively 1993-1996. A very brief period of a couple years in which Hip-Hop and R&B producers to artists started collaborating and influencing each other. That era we affectionately called "Throw Em Up" (inspired by how people were dancing in all videos) was musically very different than its predecessor (New Jack Swing) and what followed after with the more futuristic, synthesized production style of Timbaland, Darkchild, The Neptunes and others who followed.
We'll always love the classics of the era but with each edition of these mixes we love bringing you deeper forgotten selections discovered from rare CD's and overlooked vinyl bins all over the world."
– Onra & Lexis
Download (Right-Click Save As:)
TRACKLIST
N-Phase ft. Noah Waters – Turning Tricks
Levert – Ain't No Thang
Case – I Gotcha
Art'N'Soul – Ridin'
Twice – Come Home
Elisha La'Verne – Say Yeah!
Lo-Key – Back 2 Da Howse
Kino – Body Language
Kenneth Mangram – So Devine
Damion Hall – Do Me Like You Wanna Be Done (The Crazy Leg Extended Version)
Kreuz – Party All Night (Flava Mix)
Alfonzo Hunter – Week-End Thang (Big R Remix)
Stacey Phipps – Loneliness Ave.
Monteco – Summerday
Po' Broke & Lonely – Three Honeys
Victor Haynes – Everything's Alright
For Real – You Don't Wanna Miss (Silkadelic 12″ mix)
Rome – Feelin' Kinda Good
Lexxus – Candy Love
Melieck Britt – I'm The Only Playa
J.J. Little – Puttin' It Down
The Here And Now – The Here And Now Sound
C233 – Love Train
Groove U – Hoochie
Blackstreet – I Like The Way You Work (T.R. Blackstreet Mix)
9*1*1 – Cutie (Funk Mix With Rap)
D.R.S. – 44 Ways
Melvin Riley – Goin' Thru A Thang
Donell Jones – In The Hood (Playas Version)