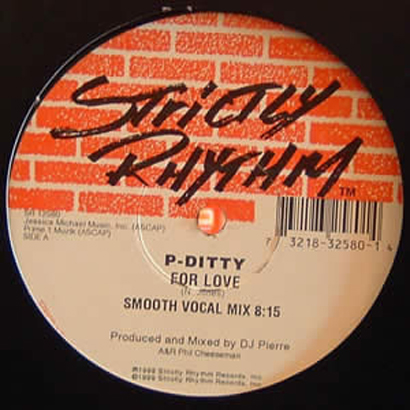 Forgotten Treasure: P-Ditty "For Love" Smooth Vocal Mix (1999)
At a time when there was no such thing as too many crash cymbal hits, P-Ditty (one of DJ Pierre's many aliases) came up with this beautiful house track. It is in 1999 that this one and only Ditty track was released on Strictly Rhythm, a very influential record label of the House music movement.
DJ Pierre was heavily involved in Strictly Rhythm during the 90s and even worked there as the A&R manager for some time. For Love defines what a good Disco House track should be like: some filtered strings, a funky bassline, soulful vocal chops and of course, banging congas throughout the whole song. You can catch Pierre playing in Montreal on Saturday night at Club Lambi, click here for more info.
P-Ditty - For Love (Smooth Vocal Mix)
even DJ Pierre rediscovered this gem with our help!
I had forgotten about this: Gitta bring P-Ditty back!… fb.me/1TOL2ek8S

— djpierre (@djpierre) December 7, 2012