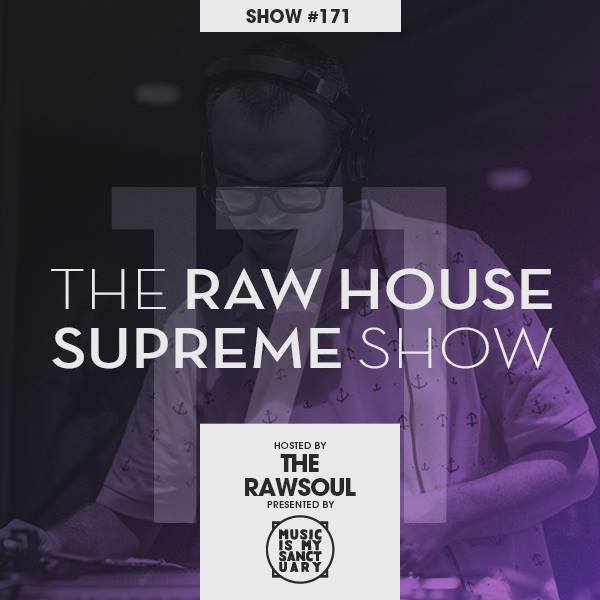 The RAW HOUSE SUPREME – Show #171 (Hosted by The RawSoul)
A fusion of classic and forgotten US and UK Garage.
Sounds courtesy of Mood II Swing, Roger S, DJ Smash, Smack, Kerri Chandler, Jovonn, MJ Cole, Grant Nelson, Booker T, Tuff Jam, D.J. Disciple, Wayne Gardiner and much more!!!
TRACKLIST
1.Loni Clark – Rushing
2.Terrence Parker – Enough 4
3.Paul Simpson – Ding Sing
4.Tashan – Love Is Forever
5.Groovestyle – Love
6.The Chris Simmonds Project – Work It
7.Herman "The Springer" Orphey – Tabu
8.Bob Belden Project ft Cassandra Wilson & Dianne Reeves – Come Together
9.Jovonn – I'm Waiting
10.Niceguy Soulman – Feel It
11.Kerri Chandler Presents Raw Grooves – Kerri's Theme
12.Fayleine Brown – Joy
13.Dub Monsters – Deep Innit
14.Greg Stainer – This Groove
15.Da Bud – Don't Make Me Wait
16.Guess Who? – Sweet Lurv (Smile)
17.The Jam Experience – Feel My Love
18.M Dubs & The 49ers – I Got The Music
19.Michael Watford – Say Something
20.D.J. Disciple – Nu Thang
21.Guy S'Mone – You're Mine
22.Todd Edwards – Forgiven
23.Smokin Beats ft Lyn Eden – Dreams
24.Kathy Wood – Bring Me Joy
25.Mass Fusion – The Heat In Me
26.Cherie Lee – Love Me Or Leave Me
27.Umosia – Love, Don't Let Me Down
28.Dose Of Paradise – Don't Hold Back
29.Kool Vibe – Make It Deep
DOWNLOAD LINK