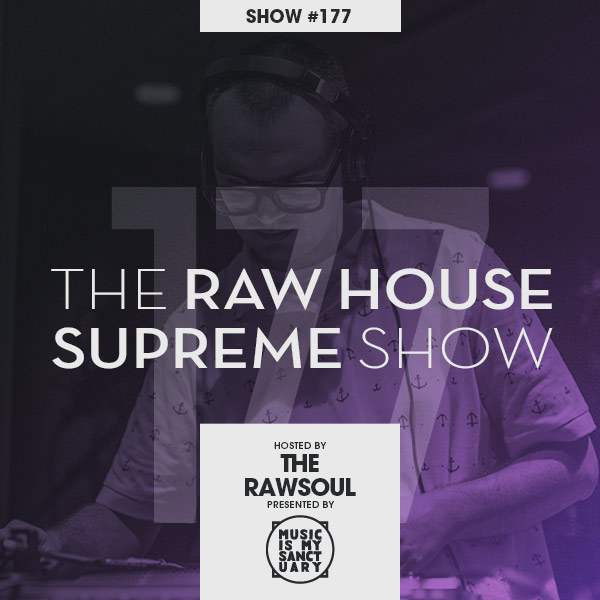 The RAW HOUSE SUPREME Show – #177 Hosted by The Rawsoul
Some more excursions into the land of the relentless House grooves.
Dubby, deep, atmospheric, soulful, classic and unknown jams in the mix! Get into the "raw" with music from Larry Heard, Ron Trent, Chez Damier, MK, DJ Pierre, Brothers Of Peace, Jovonn, Big Moses, Masters At Work, Johnny Dangerous, A Guy Called Gerald, Joey Negro, Adeva and much more.
TRACKLIST
1.The Jamayka Boys – Rastaman
2.Inner City – Do Me Right
3.Larry Heard – Guidance
4.Mr. Fingers – On My Way
5.Glenn Underground – Sun, Moon & 12 Stars
6.Moods – A Feeling
7.Henry – Ease The Pain
8.Bigger Than Life! – Change Your Mind
9.Photon, Inc. ft Paula Brion – Generate Power
10.Adeva – Warning
11.A Guy Called Gerald – Voodoo Ray
12.Joey Negro – Do It, Believe It
13.Hermann – Tumblin' Down
14.Dance Syndication – Dancefloor
15.K-Yze – Shout It Out
16.Sandy B – Feel Like Singin'
17.Eugene Bussey Project – DJ In Control
18.The Zohar – New Groove
19.LY – Deep Inside My Mind
20.Paradise Inc. – Get Together Now
21.Kimiesha Holmes – Ups And Downs
22.MJ Cole – Tired Games
23.MAW & Company ft Xaviera Gold – Gonna Get Back To You
24.Johnny Dangerous – Emerald City
DOWNLOAD LINK