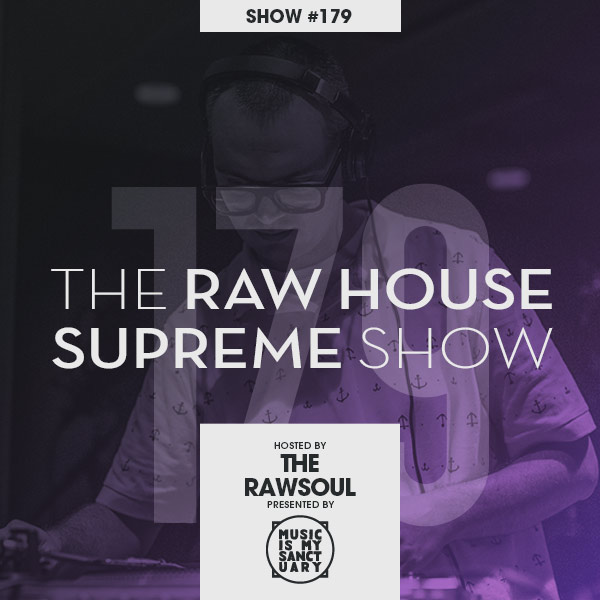 The RAW HOUSE SUPREME Show – #179 Hosted by The Rawsoul
Joining the dots between the old and the new!
Fresh cuts by Mihail P, Jacy, The Zohar, Black Noi$e, Ali King, Deep 88, Loleatta Holloway, Leroy Burgess, Kenny Carpenter, DJ Spinna, Byron Stingily and Deetroit. And then, of course, some classics courtesy of Ron Trent, Anthony Nicholson, Nature Boy, Kerri Chandler, Blaze and some more. Turn it up!
TRACKLIST
1.Mihail P – Theta Wave
2.Deep 88 – Calzer8
3.Deetroit – Untitled
4.Jacy – Gotta Have It
5.Crunchy Nut Cornflakes – We Can Work It Out
6.The Zohar – New Groove 13 07
7.Black Noi$e – Freaknik
8.The East Village Loft Society – I Wanna Sing… Sunshine
9.Naomi Daniel – Feel The Fire
10.Kerri "KAOZ 6:23" Chandler – Love Is Over
11.Black Ivory – Mainline
12.Alexander Hope – Never Can Get Away
13.The Papp / Preston Project – Everybody
14.Con-Fusion Kiddzz – Stresskill
15.Nelson "Roman" Paradise – Potential Love
16.USG – NCAMEU
17.Incognito – Jacob's Ladder
18.Kenny Bobien – With All My Might
19.Byron Stingily – Having You
20.Leroy Burgess & Kenny Carpenter – More Love
21.Ann Nesby – Hold On
22.Jon Cutler – T-Filter
23.Ali King – Yes
24.Loleatta Holloway – Can't Let You Go
25.Chosen Few – Positivity
26.DJ Spinna – Tie It Up
DOWNLOAD LINK