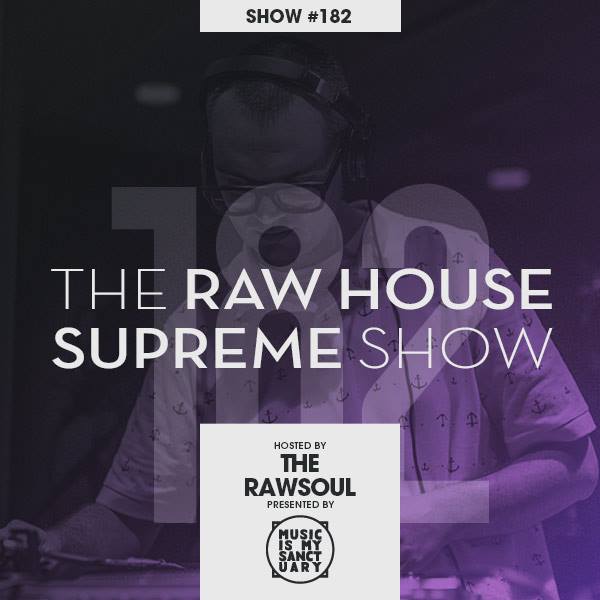 The RAW HOUSE SUPREME Show – #182 Hosted by The Rawsoul
Bumpy, jazzy, soulful vibes all around. Get into the RAW!
Choice cuts courtesy of Blaze, UBQ Project, Smack, Kool Vibe, Ralphi Rosario, The Zohar, Nicolas Diez, Steve "Silk" Hurley, John Robinson, Willie Wall, Ten City, Kenny Carpenter, Burrell and loads more!
TRACKLIST
1.Lenny Fontana Presents The East Side Movement – Inner City
2.Dee Holloway – What Can I Do For You
3.House 2 House – Do 4 Me
4.UBQ Project – Cosmic Rhythm
5.Michael Jackson – Jam
6.Bass Hit – Hey!
7.Kool Vibe – House Fever
8.Ralphi Rosario – Bardot Fever
9.The Zohar – New Groove 13 07
10.Nicolas Diez – Amazonia
11.DJ Romain & Matt Keys ft Nedelka Prescod – Joy 4 Ever
12.Matt Wood – No Time
13.Club Artists United – Sweet Chariot
14.Mystic – Funky
15.Carl Bias & B.I.P. ft Sunday Williams – I'm Up In Heaven 96
16.UBQ Project – I Like It
17.The Cover Girls – I Am Woman
18.Spring – Independence
19.Davidrex X – Let Me Feel It
20.Ladina Whitfield – Make It Real 4 Me
21.Ten City – Right Back To You
22.Kenny Carpenter ft Anthony Malloy – Impulse
23.Artomatik – Free
24.N.Y. House'N Authority – Tilden House
25.Loleatta Holloway – Can't Let You Go
DOWNLOAD LINK
Listen & Subscribe to The RAW HOUSE SUPREME Show as a podcast on iTunes