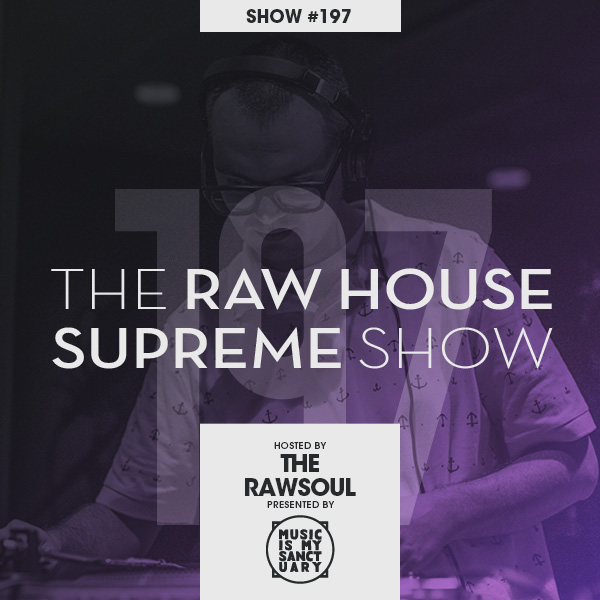 The RAW HOUSE SUPREME Show – #197 Hosted by The RawSoul
New year, new music! This time around, a showcase of recent releases ranging from Broken Beat to Deep Techno.
Music courtesy of Kaidi Tatham, Toddla T, Force Placement, Expletive, Rhythm Of Paradise, Rydm Sectors, Too Smooth Christ, Mpumi, Santiago Salazar, Tee Mango, Oil Furness, Sweely, Molinaro and loads more!
TRACKLIST
1.Kaidi Tatham – Hard Times
2.Toddla T ft. Andrea Martin – Ungrateful
3.Anthony Poteat – Greatful
4.Thatmanmonkz – For Bae
5.Amp Fiddler – Your Love Is All I Need
6.Force Placement – Play On
7.Alex Agore – Madness
8.Rhythm Of Paradise – Dreams
9.Santiago Salazar – Saturated Fear
10.Expletive – Static
11.Too Smooth Christ – Magical Motion
12.Beraber – Sun Ritual
13.Kapote – Temptation
14.Molinaro – TY
15.Black Noi$e – V98.7
16.Jimi Tenor & Freestyle Man – Power Of Love
17.Pal Joey – Gettin' Hot
18.Norm Talley – Get It Right
19.Kian T – Disco Sauvage
20.Tee Mango – Confused
21.Oli Furness – Sacred Sex
22.Sweely – Stronger Than Me
23.Rydm Sectors – Do It
24.Pierre Mortiz – Fewnolder
25.DJ Aakmael – Take It Back – Scissor and Thread
26.Mpumi – Khumbule
27.Penny Penny – Dance Khomela
DOWNLOAD LINK
Listen & Subscribe to The RAW HOUSE SUPREME Show on iTunes