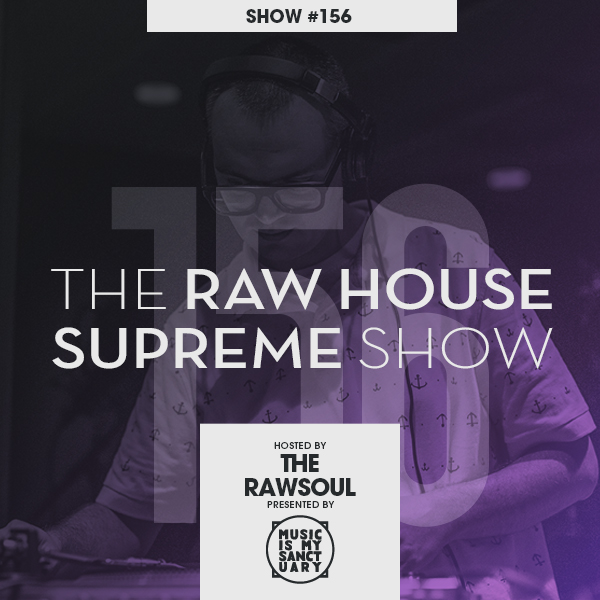 The RAWHOUSE SUPREME – Show #156 (Hosted by The RawSoul)
Strictly classic jams and favourites of mine in this edition.
Lots of heavyweights in the mix : CJ Macintosh, Kenny Dope Gonzalez, Dego, Mood II Swing, Booker T, Wayne Gardiner, Tommy Musto, Jovonn, Smack, Todd Edwards and much more! Play this loud and get your groove on!!!
TRACKLIST
1.B.M.U. (Black Men United) – U Will Know
2.Music From The Trees – Back To Basiks (Back 2 The Way It Was)
3.Swing Kids – Good Feelin'
4.Carolyn Harding – Movin' On
5.Tikkle – Movin On
6.T. Solomon ft Tony Moss – I Got U
7.Mood II Swing Productions Presents Wall Of Sound – Penetration
8.Underground Mass ft Lisa White – Didn't I
9.Logic – Blues For You
10.Scottie Deep Presents Daddy's Mood – About You
11.Masters At Work ft India – When You Touch Me
12.The Rhythm Construction Co. – Mighty Love
13.Wanda Rogers – Prove Your Love
14.R.I.P. Productions – On Cloud 9
15.Cloud 9 – Do You Want Me
16.Jovonn – Be Free
17.House Neegroz – Piano
18.Beat Freak ft Maria – Loop Trick
19.Cassio – Loose Booty
20.Lonnie Gordon – Do You Want It
21.Sound Of One – As I Am
22.Handsome Dan – Lik
23.Da Bud – Golden
24.Deee-Lite – Runaway
25.Kool Vibe – Make It Groove
26.Jo Ann Jones – A Better Love
27.Kamar – I Need You