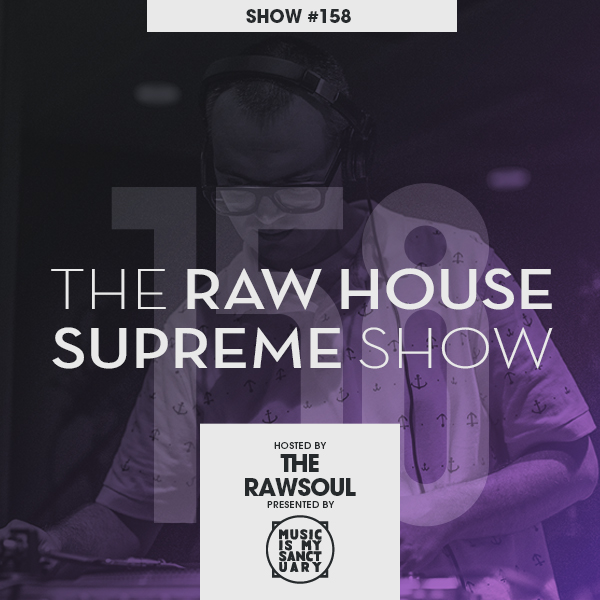 The RAWHOUSE SUPREME – Show #158 (Hosted by The RawSoul)
Lots of different flavors in the mix this week.
You'll hear some Techno, deeper tracks and those classic NYC / Jersey Garage stormer. Choice cuts from Val G, Deep 88, Miguel Graca, Charles Webster, Pal Joey, L.B. Bad, Jovonn, Blaze, Domu and even 45 King!
TRACKLIST
1.African With Mainframes – Pulse Of An Ancient Land
2.Fit Siegel – Seeded
3.Val G – Headed East
4.Gherkin Jerks – Parameters
5.Deep 88 – All MPC500 But The Lead
6.LHAS – Beauford's Justice
7.H Foundation – Tonight
8.Miguel Graca – Space Frontiers
9.Echomen – Thru 2 You
10.The Visionary – Free My Soul
11.Glenn Underground – Isralee Night Falls
12.Jump Cutz – Movin' To The Break
13.L.B. Bad – I Like To Move
14.Pal Joey – Party Time
15.Bang The Party ft Noise – Bang, Bang – Attitude Rap
16.The Committee – Dub U Say
17.Aaron Ross Presents Rain People ft Marcus Begg – Tripin' On Love
18.45 King – Just A Touch
19.The Colour Funky – Journey (Moonwalk Sister)
20.Domu Presents Pete Simpson – Look A Little Further
21.Jovonn – Be Free '92
22.Red Paradise – You've Got To Move
23.Blaze Presents Sheila Slappy – Love Comes Around
24.House Of Jazz ft Jolynn Murray – How Can I Get You Back
25.Delicious Inc. – Eau De Chanté
26.Chantay Savage – Survive
27.Ten City – Joy & Pain'