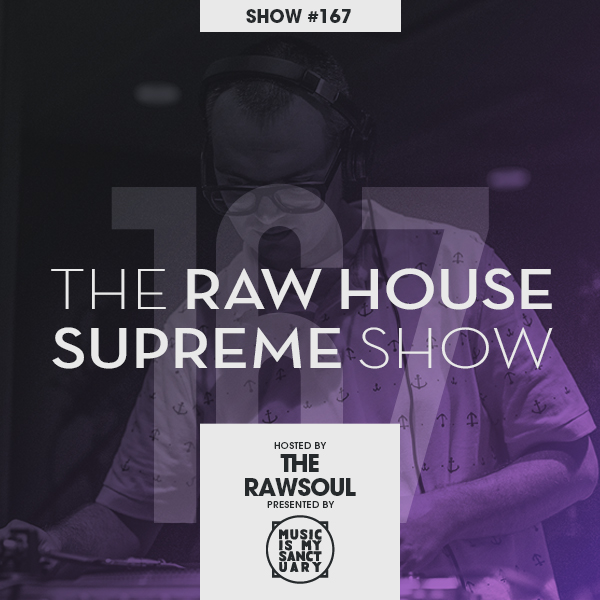 The RAWHOUSE SUPREME – Show #167 (Hosted by The RawSoul)
A "Reality Check" edition of The Raw House Supreme Show. A conscious atmosphere to make you groove, think and reflect on all the madness around.
Heavyweight sounds courtesy of Gil Scott-Heron, Paul Randolph, Larry Heard, Moodymann, Machine, Charles Earland, Juan Atkins, D'Marc Cantu, James T. Cotton, Underground Resistance, Lil Louis, Jamiroquai and much more.
TRACKLIST
Gil Scott-Heron – Winter In America
Innerzone Orchestra – People Make The World Go Round
Fingers Inc. – Can You Feel It
Moodymann – Amerika
Soul Creations – Soul Blues
Nick Holder ft Jemeni – America Eats It's Young
Legion Of Boom – Malcalm X
Reese & Santonio – Truth Of Self Evidence
Machine – There But For The Grace Of God Go I
James T. Cotton – Bizarre Carnival
Charles Earland – Leaving This Planet
Model 500 – Night Drive (Time, Space, Transmat)
Setaoc Mass – Flying Buttress
Daze – Centuries Later
Nubian Minds – Check Da Vibe
D'Marc Cantu – Taken
Terry Brookes – War
UR – The Final Frontier
Lil Louis – Blackout
Phuture – Rise From Your Grave
Jamiroquai – Emergency On Planet Earth
Mental Instrum ft C.A. – Should Be Dancin
Swing 52 – The Color Of My Skin
V4 Visions – Nation Of Islam
Leon Neal – Education
Total Eclipse – Come Together
DOWNLOAD LINK