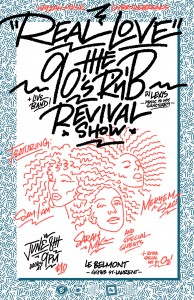 Local showcases get a bum rap. Montreal is the biggest little city in the world, with a large concentration of would-be artists crammed onto our teeny island but, unfortunately, not everyone is built for the limelight. That's cool, though: Being the eternal optimist, I would contend that you can't make cream without a little bacteria. On Saturday, June 8, Montreal gets a full course, home-cooked meal in the form of REAL LOVE: The '90s R'n'B Revival, an ambitious showcase by local pillars Wyzah Musk and OverTheBreaks with the sort of universal appeal that distinguishes our artistic community from the global pack. Dinner will be served at Le Belmont, 4483 St-Laurent Blvd, in Montreal.
Starring beautifully big-haired trio Sarah MK, Sam-I-Am and Nomadic Massive's Meryem Saci, the leading ladies will be accompanied by legendary Jazzman & vocalist Alan Prater as well as an all-star band composed of members from the Kalmunity and Groundfood collectives. To further hammer the point home, MIMS head honcho DJ Lexis will be spinning that fresh deli slice, surely infusing the evening with his selection of slow burners and '90s favorites. Headlining the whole affair will be power couple KenLo Craqnuques and Caro Dupont as O2, fresh off mat leave and poised to fill the air with that same feeling that made them make babies in the first place.
Tickets will be $10 at the door, show starts at 9PM EST. Lose the preconceived notion of what a local showcase is and witness firsthand just how great it can be.
Here's a preview, courtesy of Sam-I-Am, Waahli and Dr. MaD's original song commemorating the event. Shmoove, real shmoove.
For a glimpse of what to expect from our man Lexo, look no further than the Throw'Em Up mix he put together along with French connection Onra. Killer!
Onra & Lexis – Throw'em up by Laid Back on Mixcloud
RELATED POSTS: