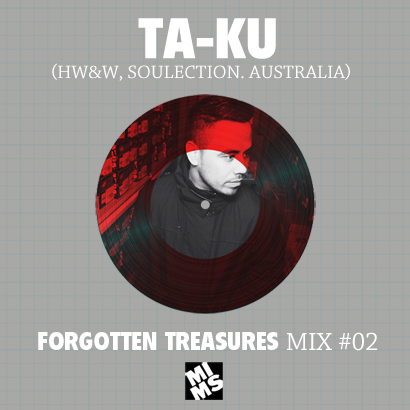 TA-KU "Forgotten Treasures Mix #02″
Brand new mix in our "Forgotten Treasures" series where we ask some of our favorite producers, DJ's, people to give us a look into their personal record collection and influences. An eclectic trip full of little beautiful oddities and timeless classics.
So, for the second edition we have none other than the homie TA-KU who has been on an absolute tear recently with countless amazing projects like the 50 Days for Dilla and his upcoming "RE-TWERK" compilation (check him out at: http://ta-ku.me)
[mixcloud src="//www.mixcloud.com/media/swf/player/mixcloudLoader.swf?feed=http%3A%2F%2Fwww.mixcloud.com%2Fmusicismysanctuary%2Fta-ku-australia-mims-forgotten-treasures-series%2F&embed_uuid=6c3f0802-9fb6-491d-af25-7438e1d5d57f&stylecolor=&embed_type=widget_standard" mp3="http://www.musicismysanctuary.com/Dj%20Lexis%20Mixes/TAKU_FT.mp3″ width="618″ height="280″]
.
Tracklist
01. The Zombies – The Way I Feel Inside
02. Kronos Quartet – Nardis
03. Dwele – Spiritual
04. Kevin Shields – Ikebana
05. Trent Reznor – Hand Covers Bruise, Reprise
06. Thomas Newman – Unrealistic
07. Goldmund – Provenance
08. Air – Alone in Tokyo
09. Massive Attack – Paradise Circus
10. Surfjan Stevens – The Palm Sunday Tornado Hits Crystal Lake
11. Zero 7 – Polaris
12. Woon & Subeena – Solidify
13. Elliott Smith – Condor Ave.
14. Blind Faith – Can't Find My Wy Home
15. David Bowie – Life on Mars?
16. Stevie Wonder – All I Do
17. A Tribe Called Quest – 1nce Again
18. Soul For Real – Every Little Thing I Do
19. Bone Thugs-N-Harmony – Crossroads
20. Diz Gibran – Truly Yours (Instrumental)
Download Link