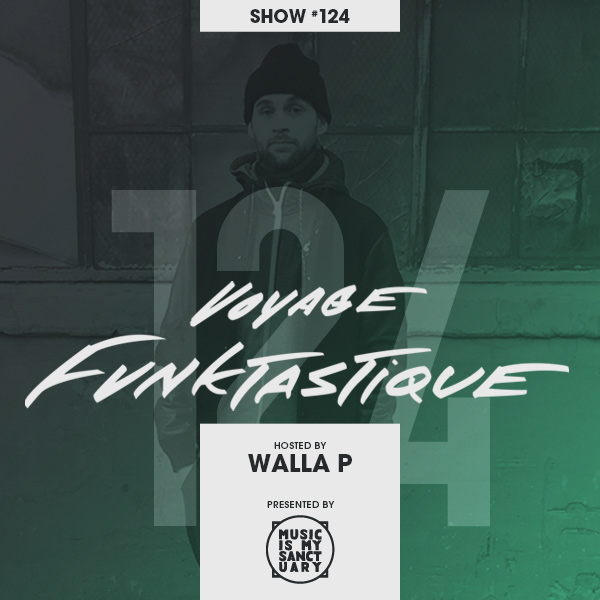 Voyage Funktastique – Show #124 (Hosted by Walla P)
For this week's show, I had the privilege to receive a guest mix from Montreal's hero David Shaw, a well-seasoned Dj who's been doing his thing for a long minute.
On my part, I have some new material from Pomrad, XL Middleton, Ivan Ave, Temu & Mofak. Hope you enjoy the Show. 2 Hours of Funk coming your way.
Download (Right-Click Save As:)
TRACKLIST
Temu – Intro
Melodiesinfonie – Grapes
Ivan Ave – I Do
L.S. Movement Band – Move
Pomrad – City Lights
Dadpnts X Brett Eclectic – Controversy (Prince Tribute)
Reggie Blount – Space Bitch feat Zackey Force Funk
Ekkah x DâM-FunK – What's Up
Mofak feat. Temu – On The Come Up-
Dave Shaw's Guest Mix
Tululah Moon – If You Want Love
The Bar-Kays – Holy Ghost
Rome Jeffries – Good Love
Bogdan Irkuk – Caprice
Dayton – We Can't Miss
Leonard Seeley's Heritage – Feel It (Long Version)
Cyril Walker – Will You Show Up
Tom Hooker – Love Attack
DMX Krew – Who Got the Funk (Re-Mix 80)
Network – Why You Wanna Treat Me Like That
Ritchie Family – Ill Do My Best (For You Baby)
Big Tony – Bubble Up
Selection – Rebel on the Run
Evo – Din Don
Exquisite Taste – It's You That's Happening
June Evans – If You Want My Lovin (Instrumental)
Wizardz – Boogie Slyde
Kilowatt – Kill-o-watt
End of David Shaw's Mix
Benny Badge – Your Touch (First Touch Rmx)
Po-one – Keep The Fire Burning
Ronnie Hudson & The Street People – West Coast Poplock
Sho-Nuff – Hold On For Love
Chester Pruitt – Can't Stop Exercising
J.P.'s Force – Time To Throw Down
Misumami – Bodyrock Ft. Buscrates 16 Bit Ensemble
DOS.ᴾᵁᵀᴵᴺ – The Dance
XL Middleton + Eddy Funkster – Show Some Respect