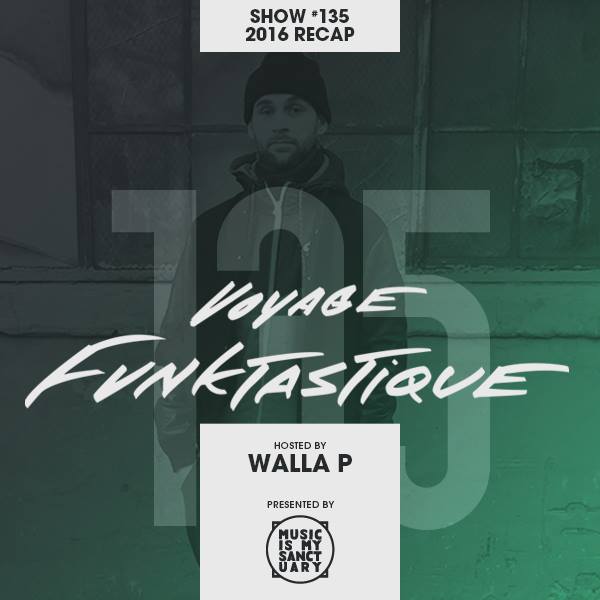 Voyage Funktastique Show #135 – 2016 Recap (Hosted by Walla P)
For this last show of 2016, I'm doing a recap of the most memorable/favourite tracks that we played over the last year.
This is a very subjective take on what Modern Funk artists produced and labels distributed. Hope you enjoy the show, happy holidays everyone, and stay funky!!!
TRACKLIST
Frankfurt Funk – Soulfood
The Kount – Served
Temu Music – SummaStank
Psychic Mirrors – The Bells of Saint Christopher
L33 – Keepin It Tight (Modern Smooth Version)
Sasac – Lost Tape #5
The Pendletons – Learning How
Psychic Mirrors – Foreign Affair – Criminal Intent
DOC Mastermind – Human Nature
Devonwho – Cruisecontrol feat. Zackey Force Funk and I, CED
Pomrad – Rush Hour feat. Steve Kashala
Terrace Martin – Turkey Taco
Henning – Tru Funksta (Instrumental Version)
Starship Connection – Do It 4 U
Silver Linings – So Good To You
Ourra & Sven Feat Alena – Play It Tight
First Touch – Bayflower
SaiR – Moves
Bybo – Dream On
Zackey Force Funk – Can't Buy My Love L.A.
B. Bravo – Im For Real
Ekkah & Dam-Funk – What's Up
Tryezz – Back to the Dream States
K-Maxx – Music
Throwback Zack – Whut It Dew
Freekwency – Your Touch
Mndsgn – Searchin II (4 Sumthn New)
Mofak feat. Temu – On The Come Up- Mofak feat. Temu
Buscrates 16-Bit Ensemble – Petrus Dish
Birdbone Unlimited – Not Gonna Stop
Psychic Mirrors – Island Girl
Dabeull & Rude Jude – Slave
XL Middleton + Eddy Funkster – Show Some Respect
Diamond Ortiz – Make Me Wanna
Shiro Schwarz – Electrify (12″ Mix)
Funky Drive Band – Drive Me Crazy (Amadeo 85 Remix)
Liquid Pegasus – 88′ Prelude
DOWNLOAD LINK