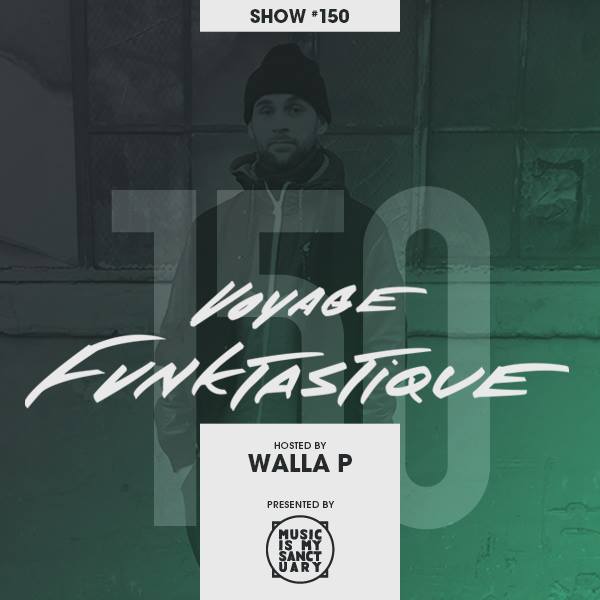 VOYAGE FUNKTASTIQUE – Show #150 (Hosted by Walla P w/ guest John Simmons)
Episode 150, let's go!
For this week's show, I'm back from my European Tour, celebrating our 4th Anniversary and 150th Show, so it's a special 3 Hour episode with Chicago's finest John Simmons as a guest in the 2nd part of the show. It features new material from XL Middleton, Ivan Ave, MXXWLL, K-Maxx, The Pendletons and much much more!
TRACKLIST
Ivan Ave – Fast Forward (produced by MNDSGN & DJ Harrison)
MXXWLL – Palm Trees
.CASTING – GETCLOSER
Alistair Blu – Sweet, Damn, Hold The Phone
DOC Mastermind – Playaz Sport
BusCrates – Porto Alegre
TariqnGarfield – Love Is Sacred
XL Middleton – Ice Level
K-Maxx – HellaBad 'Draft Version'
The Pendletons – Coming Down
Henning – End Of The Month
The Kount – Animated (feat. falcxne)
Maybe Sun – Jewel Obsession
XL Middleton – They Don't Wanna Leave Me
G-noF – Groovin On The Sunshine
-Walla P's vinyl set from Europe finds-
John Simmons' set:
Rick James Mary Jane Buscrates Remix
Beatsofreen – The Duke
Maker – Mary Jane Girls – All Night Long ( Maker 8 bit Dub Edit )
Tuxedo – Shine
Fingazz – Outstanding
Osmose – Boogie104
Amp Fiddler – Slippin on Ya Pimpin (feat. Dames Brown)
K-Maxx – Back For More
Skipworth & Turner – Thinking About Your Love (Extended 12 Inch Version)
Compton – The Last Boogie (feat. Celestine)
Ourra – What I'd Do
Leroy Burgess (Tom Ridley – Groove Armada) – Heartbreaker
Moniquea – Why Can't You See
Amalia – Lovestruck (Revisited)
B. Bravo – I'm for Real
Psychic Mirrors – The Witching Hour
DOC Mastermind – A Trip to the Stars
The Soul Rebels – I'll Be Good (feat. Lisa Millett) [Dr Packer Remix]
The Whispers – Tonight
Dam-Funk – Burn Straight Thru U
Pacific Star – Empty
Aurra – Perfect Date (Pomo Edit)
D Train – Keep on [Francois Kevorkian 12″ Remix]
Buscrates 16-Bit Ensemble – On My Own (feat. Laura Benack & Nice Rec)
Flamingosis – Groovin' (feat. Yung Bae)
Curtis Hairston – I Want Your Lovin' (Just a Little Bit) [John Morales M & M Mix]
Dayton – The Sound of Music (Jon Iler & John Simmon's Sound of Chicago Mix) – WA
Joey Negro – It's More Fun To Compute
Rick James – Standing On the Top (feat. The Temptations)
Fouk – Aldo Raine
Samma Lone – UR The Finest!
DOWNLOAD LINK
Listen & Subscribe to VOYAGE FUNKTASTIQUE on iTunes