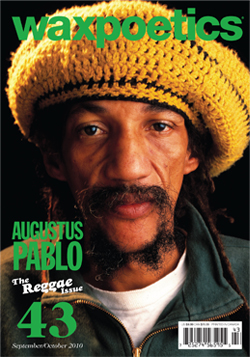 Wax Poetics #43 "The Reggae Issue"
I am sooo looking forward to getting my hands on this one. I haven't missed an issue since about #10 and this won't will definitely not be an exception! Reggae special with Augusto Pablo and Gregory Isaacs gracing the covers.
In this issue
Gregory Isaacs

Augusto Pablo

Sugar Minott

Bob Andy

Beres Hammond

UK Dub Photos

David Rodigan

Photos From Greensleeves: The First 100 Covers

Panamanian Dancehall

Island Records

Analog Out: The Roland Space Echo

Alton Ellis, Vicious, The Gayletts, Zen Bow, and Sugar Minott Re:Discovered.