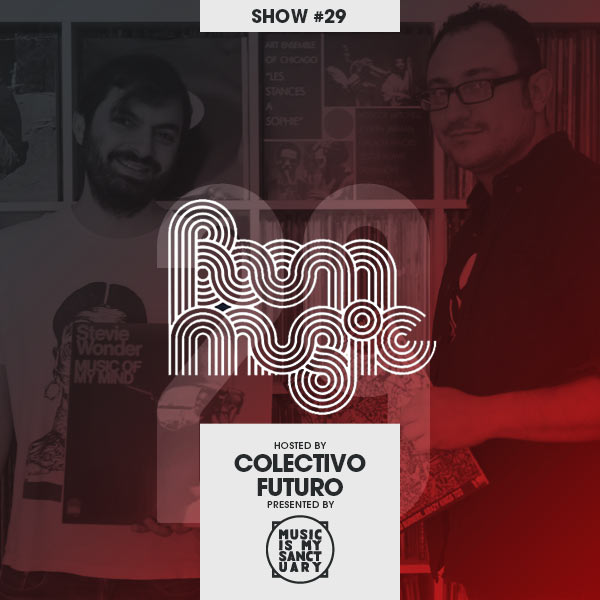 BOOM MUSIC – Show #29 (Hosted by Colectivo Futuro)
Coming at you from a more tropical location, Vol. 29 of Boom Music was recorded in the record room of one of Miami's most hard working and knowledgeable crate diggers: Lumin.
Together with regular host Miguel Colmenares; Harold Fandino, co-founder of Colectivo Futuro, and Jesus Rodriguez, the newest member of the CF family, go thru 2 hours of music for and from the soul, new and old. We also spoke to Lumin about his Puerto Rican Space Program project, released on his own Oddinhuman Music label last year; as well as his weekly residency Backyard Boogie at Wood Tavern and his Above The Clouds show on Wynwood Radio.
TRACKLIST
Gil Scott-Heron & Brian Jackson – Beginnings (First Minute Of A New Day) [Arista]
Sony Stitt – Tornado [Jazz Masters]
La Sonora Ponceña – Woody's Blue [Inca Records]
Monsalve y Los Forajidos – Black & Decker [Olindo Records]
Luis Gasca – Just A Little Bit [Atlantic]
Pieces Of A Dream – Mt. Airy Groove [Elektra]
Bernie Worrell – I'll Be With You [Arista]
Enlightment – Burning Flame [Nature Sounds]
Mtume – Kiss This World Goodbye [Epic]
Dee Edwards – (I Can) Deal With That [Soul Brother Records]
Pavel Kostiuk & Guests – Brand New Day [Planet E]
Azymuth – Dear Limmertz [Milestone Records]
Kris e Cristina – Uma Rosa Com Amor [RCA]
David Axelrod – The Smile [Capitol Records]
David McCallum – The Edge [Capitol Records]
The Olympians – Saturn [Daptone]
Santana – Soul Sacrifice [Columbia]
Luis Santi y su Conjunto – Los Feligreses [Sound Triangle Records]
Lee Morgan – Mr. Kenyatta [Blue Note]
Henry Wu – Deep in the Mudd [Eglo Records]
DJ Rels – Song For My Lady [Stones Throw Records]
Silhouette Brown – Who's In Charge [Ether]
Starship Connection – Do It 4 U [Austin Boogie Crew Records]
Temu – Funk Over Egypt [Tugboat Editions]
These Eyes – Soca Hustle [Invisible City Editions]
Ely Camargo – Taieiras [Mr. Bongo]
Puerto Rican Space Program – Slicker (Don't Laugh) [Oddinhuman Music]
Jazzberry Patch – Jazzberry Patch [JBP Records]
Domenic Troiano – All I Need Is Music [Mercury]
DOWNLOAD LINK