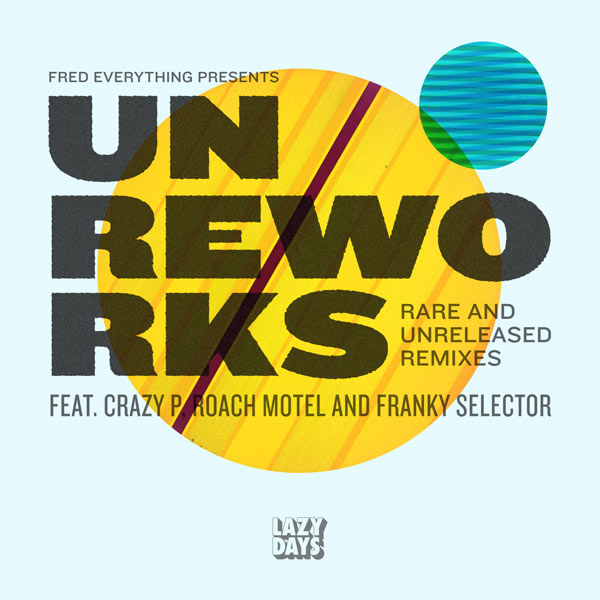 Exclusive Premiere: Crazy P "Like A Fool" (Fred Everything Remix)
Feast your ears on the first taste of a 5 track remix EP from legendary Canadian Deep House producer, Fred Everything on his own Lazy Days Recordings imprint. The EP titled "UnReWorks" is a collection of rare & unreleased remixes from Fred Everything.
The EP is aready getting support from some of your favorite House DJ's worldwide: Jimpster, Shur-I-Kan, Mark Farina, Til Von Sein and lots more.
2 Reworks of Crazy P's "Like A Fool", one of the highlights of their latest album "We Dance Talk Sing". Crazy P and Fred have a long history of remixing each other, from the Crazy P Remix of "Friday" to Hot Toddy's Remix of "Don't Nobody" feat. N'Dea Davenport and Fred's Remix of Hot Toddy's "Down To Love". On the flipside, his Remix of Roach Motel "The Night". The Vocal mix came out on a Limited Vinyl Only release on Get Physical. To close the EP, Fred Remixes an old friend from Montreal, Franky Selector, with his track Windswept Sand Dune, from his forthcoming album, showcasing a slower tempo and different production quality than his usual material.
DJ Feedback
Jimpster – Liking the Downtempo Space Re-Dub on this package. Lovely stuff.
Severino (Horse Meat Disco) – Amazing
Steve Mill (Traxsource) – Just Excellent
Jazzuelle (Get Physical) – The Space Re-Do is magic!
Nacho Marco – Great EP Fred! Full support as usual!
Rainer Truby – This is all-around pure tastiness! Big up Fred E!
Harry (Sub Club) – Nice work Fred, will support and play, all good here.
Hector Romero (Def Mix) – Like A Fool is so silky and smooth! I'm all over it. Great EP
Ludovic Llorca (Art Of Tones) – Classic Fred Everything work! Loving everything here!
Quentin Harris – Outstanding Package. Thanks.
Mousse T – Dope!
"UnReWorks" releases digitally May 19, 2017 on Lazy Days Recordings