Forgotten Treasure: Brother Resistance "Rapso Take Over" (1986)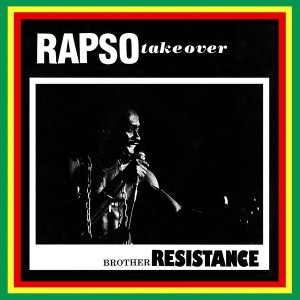 I will never cease to be amazed at how many musical treasures elude us, despite our best (and near obsessive) efforts. I guess that's what keep record diggers, DJ's and labels going: the fact that there are still so many gems out there.
Case in point, the good folks at Australia's Left Ear Records have released their third reissue project: an extremly hard to find release from Trinidad and Tobago originally released in 1986 by an artist called Brother Resistance (real name Lutalo Makossa Masimba).
Rapso Take Over blends calypso, reggae, disco, funk and poetry to create the artist's signature Rapso sound. A progressive form of poetry from Trinidad and Tobago, Rapso emerged as a means by which to articulate the daily suffering symptomatic of the social unrest afflicting the nation throughout the 1970s and 80s. Brother Resistance played a significant role in the Rapso movement, deploying his music to spread messages of hope and liberation.
The authorities took Brother Resistance's rising status seriously, destroying what they could of his studios and in the process leaving only a small amount of his music in circulation. Now for the first time we can hear Brother Resistance's finest work remastered and repressed by Left Ear Records. The music and the message live on through Rapso Take Over's stripped back rhythms infused with steel and strings, all carried by the voice of resistance.
Listen to the audio clips below and also have a look at some scans of a hard to find book talking about Brother Resistance and the Rapso movement.
The LP is available, but we suggest scooping one up fast.
Buy LP