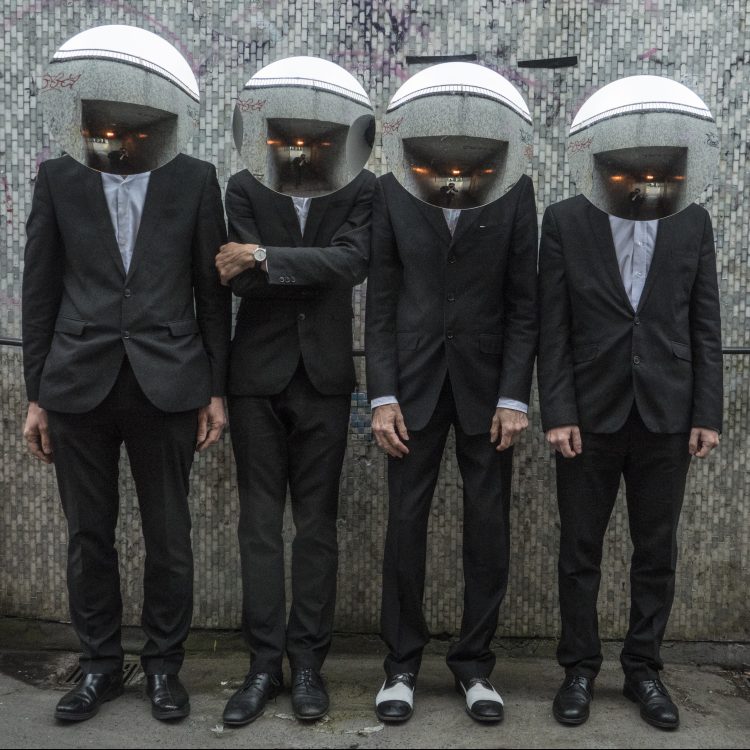 Video Premiere: Get The Blessing "Not With Standing"
Following the success of their 2015 album "Astronautilus", Jazz-Rock mavericks Get The Blessing return with their spellbinding new Album "Bristopia".
Blending their mutant Jazz sensibilities with spacey electronics and post rock atmospheres, "Bristopia" ventures into new, unexplored territories. The band is comprised of bassist Jim Barr and Drummer Clive Deamer of Portishead, Jake McMurchie on sax and electronics and Pete Judge on trumpet and electronics. Here they share the visuals for their latest single 'Not With Standing'. While a simple concept, the video gives off an eerie otherness that matches the band's sound and visual signature of keeping their faces masked.
The band has decided to pay homage to their hometown of Bristol stating, "sometimes you have to go away to see where you're from". With this in mind, they headed to record a lot of the album in the picturesque setting of Vale Studio, Worcestershire. After getting most of the material finished, the Bristol Jazz and Blues Festival invited Get The Blessing and their long-running visual collaborator John Minton to scour the Bristol Archive and create "Bristopolis", an abstract, poetic film homage to Bristol. "We realised that some of the new music is the soundtrack for a real film after all, even stranger than the one in our heads. We got to play these new tunes live at a one-off happening for the festival, with John's visual creation filling an enormous screen behind us. All begins to make (non)sense."
"Bristopia" releases September 21, 2018 on Kartel Music
---
Follow:
gettheblessing.com
Facebook
Soundcloud
Twitter