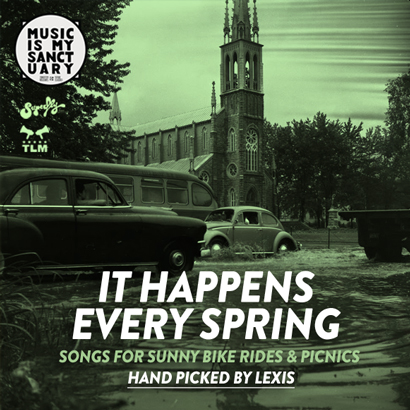 SPRINGTIME SPIRITUAL Mix Vol. 1 (2014) – Hand-picked by Lexis
Surviving the winter in Montreal is no joke. The toughest part isn't the cold, the snow or the lack of sunlight. It's the fact that it's just so painfully long. Don't get me wrong, one of the beautiful sides of living in a Northern country is that you get 4 very different seasons: +35 in the summer, -35 in the winter. But why is Winter 5-6 months long?
Every year, starting around mid-March people in Montreal all start going a bit crazy as they anxiously wait for the first signs of Spring.
I wanted to put together a mix with my favourite spring time songs to celebrate that beautiful feeling of opening the windows for the first time in 5 months.
Subscribe to the MIMS Show : on Mixcloud /// on Itunes
Download Link : It Happens Every Spring – Mixed & Selected by Lexis (Save As:)
I Monster – Daydream in Blue
Kenlo Craqnuques – Fumeuse
Knxldge – Draggin
Carlos Nino & Miguel Atwood-Ferguson – Nag Champa
James Tatum – Lotta Chant
Cortex – I Heard A Sight
Jean Grae – You And Me and Everyone We Know
Cunninglynguists – Seasons (Feat. Masta Ace)
Blame One – Drifting
J Dilla & Blu – Sun in My Face
Trinidad Senolia – You Showed Me
Jublet – Not Yet
Roberto Menescal – Inverno
Gilberto Gil – Viramundo
Catia de Franca – Quem Vai Quem Vem
Kitty Winter Gipsy Nova – New Morning
Les Parisiennes – On Recoit, On Envoie
Kelis – Little Suzie
Weldon Irvine – I Love You
Rasa – When Will The Day Come
Flowers – For Real
Bill Withers – The Same Love That Made Me Laugh
Jazzanova – Let Me Show Ya
George Costanza – Spring Rebirth Rejuvenation
Dudley Perkins / Soul II Soul – Flowers / Back to Life
Towa Tei – Technova
VLooper & Modlee – Snowloops
Aim – Pier 57
Nujabes – Flowers
Jill Scott – Still Lovely (Nirobi Edit)
Outboxx – Brighten My Day
Nebraska – The Other Side
Bennetrhodes – Tenderness
Flako – Mating Dance
Maribou State – Moon Circles
Dntel – To Go Beyond
Gabrielle – Sunshine (Wookie Remix)
Vikter Duplaix – I See The Sun
Brian McMillan – Signs
Bobby Cole – A Perfect Day
Jon Lucien – A Sunny Day
Ryo Fukui – Early Summer
Troyka – Early Morning
Omar – In The Morning
The Dramatics – In The Rain
Nina Simone – It Might As Well Be Spring
Macha Gharibian – La Douceur