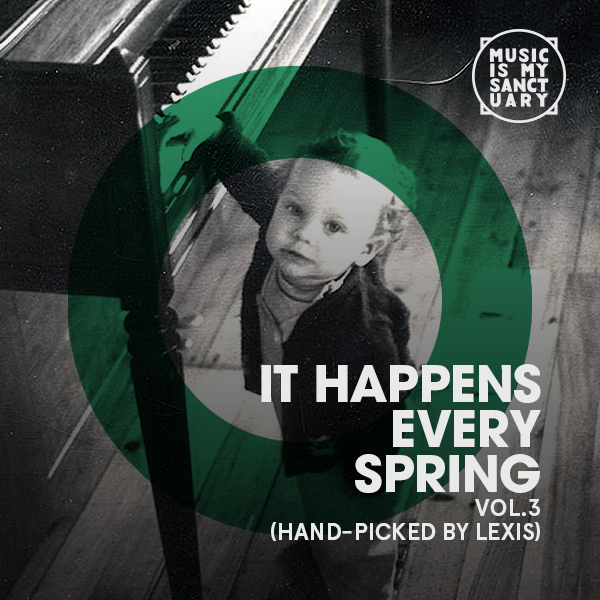 SPRINGTIME SPIRITUAL Mix Vol. 3 (2016) – Hand-picked by Lexis
Here is the 3rd edition of my mix dedicated to the feeling of a beautiful spring day after another long winter. Montreal winters are some of the coldest in the world but also the longest (5 months) which can be very tough on the collective mood of the city.
For the It Happens Every Spring mix I always try to pull together a collection of beautiful songs across eras and genres that have all have a certain cinematic, awe-inspiring quality to them. That feeling of opening the windows for the first time in 5 months.
This mix is dedicated to my mom. Your spirit is here with me on this beautiful spring day.
Download (Save as:)
TRACKLIST
Gil Scott-Heron – Intro to Winter In America (Live)
Kenny Barron – Sunset
Miguel Atwood-Ferguson – Computer Face (original by Flying Lotus)
Chris Bowden – Epsilon
James Tatum – Amen
The Montclairs – Dreaming's Out Of Season
Knxledge – 100bottles
FloFilz – Shinethru feat. Ivan Ave
77 Karat Gold – Memories in the Rain
Kendrick Lamar – untitled 06 l 06.30.2014.
Terrace Martin – With You
Solid Rock Big Band – Oh Saviour
Elia Y Elizabeth – En los Días en Que Era Demasiado Joven
Ana Maria E Mauricio – Mandato
Jay Days – Long Way Home
Breakwater – Work It Out
Ruben Bassini – Quem quiser encontrar o amor
Os Tincoãs – Deixa A Gira Girá
Black Milk & Nat Turner – The Knock
Orice Jenkins – Find Your Love
Henri Texier – Les La Bas
David Benoit – Life Is Like A Samba
Leci brandao – Questao de gosto
Build an Ark – Sunshine
Hudson People – Trip To Your Mind
Elbernita 'twinkie' Clark – Awake O Zion
Dwele – Early Morning
LV – Balance Spring
Kadhja Bonet – Honeycomb
Kalju Terasmaa & Els Himma – Lahkumislaul
Luiz Eça – Depois da queda
Deon Jackson – Love Makes the World Go 'Round
The Zombies – And I Loved Her (Lost Heroes Edit)
Luiz Eça – 3 Minutos para um aviso importante
Sun Ra – Springtime Again