MIMS Radio Live Sessions – S02E05
Episode 5 of MIMS Radio presented by the Phi Centre is about the music, so listen up!
Walla P and ASMA are on hosting duties this week bringing you some killer selections for Crucial Material and the Geek Down. For this week's live performance we've got Montreal-based Creole Hip Hop outfit Vox Sambou joining us in-studio! And hold tight, there is a surprise guest near the end of the show… so stay tuned.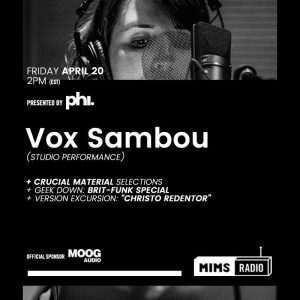 Crucial Material (00:01:11)
Geek Down: Brit Funk (00:20:26)
In Situ: Vox Sambou (00:47:55)
Version Excursion: Christo Redentor (01:04:12)
Outro (01:28:21)
Listen to the Full Show
Listen & Subscribe on iTunes
Tracklist
Crucial Material
Midnight Tenderness – Hydra
Alaclair Ensemble- Alaclair High
Dogg Master – Body Therapy
Ebo Taylor- Aboa Kyirbin
Geek Down: Brit Funk
Loose Ends – In The Sky
52nd Street Band – Look Into My Eyes
The Cool Notes – Blown It
Congress – You Gotta Get It
Rick Clarke – Love With A Stranger / Freeez – Flying High
Version Excursion: Christo Redentor
Donald Byrd – Christo Redentor
Charlie Musselwhite – Christo Redemptor
Duke Pearson – Cristo Redentor
Harvey Mandel – Cristo Redentor
Pharoah Monch – The Truth
Outro
Koji Ono – Inner Rhythms
Robert Glasper Experiment – Find You ft. Iman Omari (Kaytranada Remix)
Yotaro – Way To Go
Kali Uchis – After the Storm
Guest Artist Links