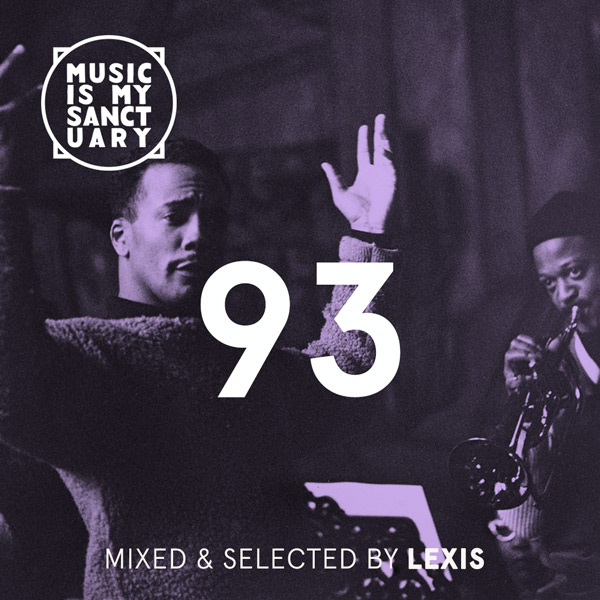 MUSIC IS MY SANCTUARY Show #93 – Mixed by Lexis
Just getting back from our annual end of summer Europe trip to close it out in fine style. Shout out to all the people at Dimensions Festival in Croatia, out to the people at my yearly residency in Belgrade and I have to apologize to the lovely people of Slovenia for cancelling a gig – 2nd gig cancellation in 17 years of DJing, I was really really sick… I'll spare you the details 🙂
Been doing this monthly show for 11 years now and I'm inspired as ever for 2 very simple reasons. 1) Amazing music keeps coming out. A lesson that record digging should not be about staying stuck in the past, we should try and celebrate talents from the past AND the present 2) Because I still get a lot of joy from sharing this show with you. So please don't hesitate to get in touch, share, comment on what your favourite discovery was.
Show #93. Another stacked one!!!
Exclusives from Moonstarr, Glenn Astro, Max Graef and Maisha as well as brand new releases from Mansur Brown, Noname, Fatima, Georgia Ann Muldrow and much much more.
TRACKLIST
Yussef Dayes, Alfa Mist – Blacked Out
Allysha Joy – FNFL
Glenn Astro – Discomania *Exclusive*
Moonstarr – Unreleased *Exclusive*
Moonstarr – Unreleased *Exclusive*
Numbers – Moonblood (IG SOS Mix)
Nikki O & thatmanmonkz – Gotta Believe
Bobby Boy – Today Is the Day (Linkwood Chop)
Karizma – The Power
Prince – 17 Days (Piano & A Microphone 1983 Version)
Waajeed – Strength (Waajeed's String Mix)
Yves Tumor – Honesty
Tirzah – Holding On
XGLARE – Spore
Georgia Anne Muldrow – Overload
Smith & Mighty – Yow He Koh
Don Papa – Kånge (DJ Sotofett Remix)
Max Graef – Burning 4 U feat. Chrissley Benz *Exclusive*
Shit And Shine – Figure This Shit Out
Swarvy – Lucidreams
Noname – Window
Fatima – Dang
Jeremiah Jae ft. Koreatown Oddity – Figure Skating
Illingsworth – Peeves
Alaclair Ensemble – Rien qui s'donne
Joey Purp, RZA – Godbody
Bruce Haack – When Mothers of Salem
Yasuaki Shimizu – Crow
Ghost McGrady – Parks & Shit
Dengue Dengue Dengue – Eye Acucho
Rejoicer – Alien Sphere
Oliver Coates – Cello Renoise
Mansur Brown – Shiroi
Woolymammoth – Aperture in Meditation, Time
Maisha – There Is A Place *Exclusive*
DOWNLOAD LINK
Listen & Subscribe on iTunes