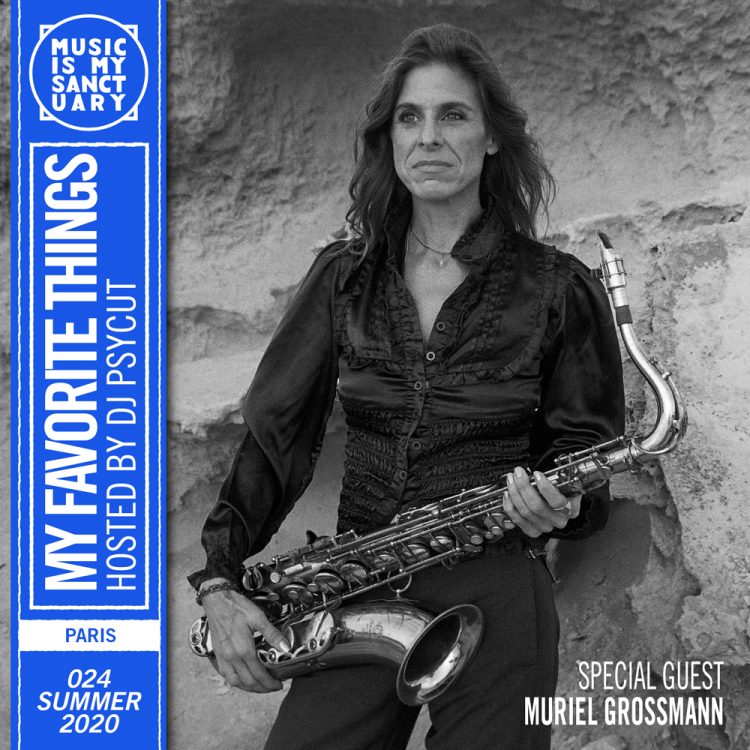 MY FAVORITE THINGS — Show #24 w/ Muriel Grossmann (Hosted by Psycut)
Hi everybody, I hope all of you are fine during these difficult moments all around the world. I'm very happy to welcome my friend Muriel Grossmann for this 24th edition of My Favorite Things show. Along with Nat Birchall, Greg Foat, Matthew Halsall and Kamasi Washington, she is one of the most important Spiritual Jazz Artists of this era.
She has selected for Music is my Sanctuary some of her favorite jazz tracks and main influences.
I also contribute to this edition with some recent jazz tracks with a deep atmosphere, connected with the current events from last days.
TRACKLIST
DJ Psycut
01 – Deborah Jordan – Spirit Of The Earth (2020)
02 – Key Elements – Elemental (2020)
03 – Lady Blackbird – Blackbird (2020)
04 – Tenderlonious – Raga (2020)
05 – Chris Harwood – Wooden Ships (1970)
06 – Freddie Gibbs, The Alchemist feat. Conway the Machine – Babies & Fools (2020)
07 – Ruby Rushton – Sun Khosi (2020)
Muriel Grossmann
08 – Muriel Grossmann – Elevation (2017)
09 – Maleem Aleem Mahmoud Ghania with Pharoah Sanders – La Allah Dayim Moulenah (1994)
10 – John Coltrane – Crecent (1964)
11 – Lou Donaldson – The Humpback (1967)
12 – Lester Young Trio – I've Found a New Baby (1951)
13 – Illinois Jacquet – Illinois Flies Again (1966)
14 – MC Coy Tyner – His Blessing (1970)
15 – Ornette Coleman – Lonely Woman (1959)
16 – Tony Malaby – OBAMBO (2009)
17 – Miles Davis (1958) – Two Bass Hit (1958)
18 – Wes Montgomery (1960) – MR. Walker (1960)
19 – John Coltrane – Stellar Regions (1967)
20 – Muriel Grossmann – Peace For All (2016)